This chapter template is included in every Proposal Pack along with thousands more chapter templates.
Order and download for $79.

DOWNLOADABLE, ONE-TIME COST, NO SUBSCRIPTION FEES
Use the Sustainability template to show a potential lender the project will not end once the initial funding has been used. Show you have a growth and support plan for the future.
With this Proposal Pack for Proposal Kit, it brings in so many phenomenal templates into your software that writing proposals for companies is a breeze compared to trying to do the research and figure out exactly what to say having a predefined template to start from with examples makes such a huge difference!!"
Allan Fine
The Executive Edge
Produced by:
Proposal Kit
Category:
Software › Computer Software › Business & Productivity Software

4.9 stars, based on
823 reviews
Related chapters may be used in conjunction with this chapter depending on your situation. Many related chapters are intended to be used together to form a more complex and integrated proposal.
Related Chapters:
This template is illustrated in actual use in the following Sample Proposals. Samples are also included in each Proposal Pack and illustate many of the industries and situations this template can be used for: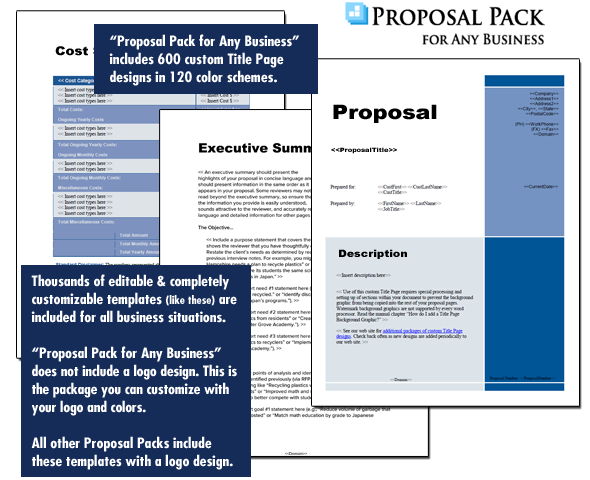 A proper business proposal will include multiple chapters. This is just one of many chapters that may be included in your proposal. The complete fill-in-the-blank template is included in our Proposal Pack template collections. A variety of sample proposals illustrating how companies in different industries both large and small have written proposals using our Proposal Packs are also included. This template will show you how to write the Sustainability.
A wide variety of chapters are included and are intended to be picked based on your needs. All proposals are different and have different needs and goals. Pick the collection of chapters from our collection and organize them as needed for your proposal. Recommendations and samples provided are only intended as general guidelines.
Using the Proposal Pack template library you can create any kind of business proposal, report, study, plan or document
such as these
.
How to write my Sustainability document
The project has been designed to be sustainable beyond the initial funding period. Use the Sustainability template to show potential lender that the project will not end after the initial funding has been used. Show that you have growth and support plan for the future. Examples of sustainability are self funding by generating income sustainable agriculture recycling of goods to extend their life cycle harnessing natural resources wind continued external funding long term upkeep of an object building equipment etc. ongoing resource energy consumption of the project etc. If this project has lifespan beyond what will be initially funded describe how it will be sustained. Will the project be self sustaining or funded by other sources. Describe the future growth and support plans for the project. Show the potential lender or investor that the project has long term goals and will not end after the initial funding is gone. Describe the components needed for sustainability that you are planning for such as income staffing equipment and resource availability community support federal support other funding sources etc.
A Document from Proposal Pack

The editable Sustainability template - complete with the actual formatting, layout and graphics is available in the retail Proposal Packs.