This chapter template is included in every Proposal Pack along with thousands more chapter templates.
Order and download for $79.

DOWNLOADABLE, ONE-TIME COST, NO SUBSCRIPTION FEES
Use this page to describe a recycling project or process. For example, you might want to introduce a new recycling program for your company campus, or explain how your company recycles materials during the product cycle.
I love the suggestions for what to write. That's really helpful to have something for proposal writing rather than a blank space."
Caroline Bogart
Produced by:
Proposal Kit
Category:
Software › Computer Software › Business & Productivity Software

4.9 stars, based on
830 reviews
Related chapters may be used in conjunction with this chapter depending on your situation. Many related chapters are intended to be used together to form a more complex and integrated proposal.

Related Chapters:
This template is illustrated in actual use in the following Sample Proposals. Samples are also included in each Proposal Pack and illustate many of the industries and situations this template can be used for: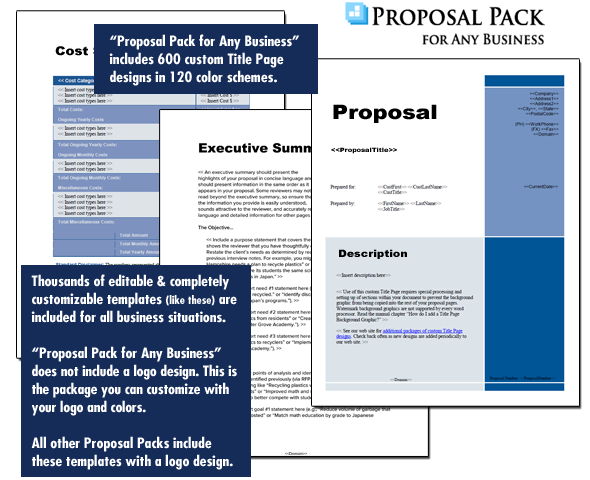 A proper business proposal will include multiple chapters. This is just one of many chapters that may be included in your proposal. The complete fill-in-the-blank template is included in our Proposal Pack template collections. A variety of sample proposals illustrating how companies in different industries both large and small have written proposals using our Proposal Packs are also included. This template will show you how to write the Recycling.
A wide variety of chapters are included and are intended to be picked based on your needs. All proposals are different and have different needs and goals. Pick the collection of chapters from our collection and organize them as needed for your proposal. Recommendations and samples provided are only intended as general guidelines.
Using the Proposal Pack template library you can create any kind of business proposal, report, study, plan or document
such as these
.
How do you write a Recycling document?
Use this page to describe recycling project or process. For example you might want to introduce new recycling program for your company campus or explain how your company recycles materials during the product cycle. Introduce here the topic of recycling and explain its importance to your proposal. Then provide details below. Recycled Materials Describe the materials you routinely recycle or plan to recycle such as paper glass metals plastics and so forth. The Process Describe the process you use to recycle. Depending on whether you are using recycled materials or disposing of them this could include buying recycled goods separating them and transporting them. It might also include description of the process you have set up for customers to safely recycle your products.
The Benefits Describe the benefits of recycling to your organization or to the potential client. These might be cost savings tax benefit or simply the satisfaction and prestige of being able to advertise your organization products or process as environmentally friendly or " green. "
A Document from Proposal Pack

The editable Recycling template - complete with the actual formatting, layout and graphics is available in the retail Proposal Packs.