This chapter template is included in every Proposal Pack along with thousands more chapter templates.
Order and download for $79.

DOWNLOADABLE, ONE-TIME COST, NO SUBSCRIPTION FEES
Use the Content Management Plan to outline how you will deal with large amounts of information. Any organization that routinely produces large volumes of information is involved in Content Management.
This is a very good product at a very reasonable price."
Blaine Dickens
HBD1 Consulting LLC
Produced by:
Proposal Kit
Category:
Software › Computer Software › Business & Productivity Software

4.9 stars, based on
837 reviews
Alternate chapters are those which may be used instead of this chapter depending on your situation. Alternate chapters may be better suited for different size projects, more specialized projects, variations on rights, etc.

Alternate Chapters:
Related chapters may be used in conjunction with this chapter depending on your situation. Many related chapters are intended to be used together to form a more complex and integrated proposal.

Related Chapters: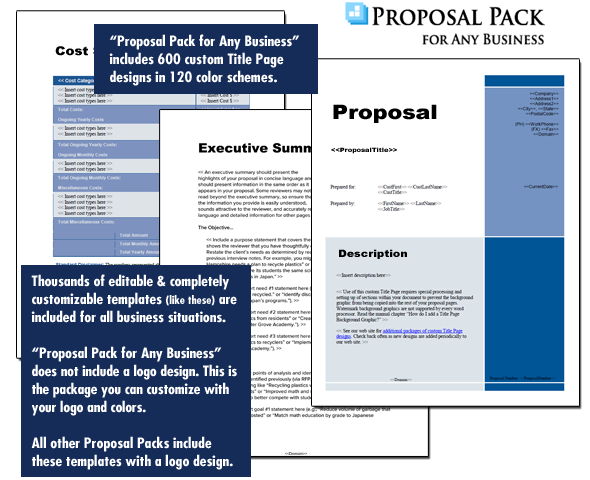 A proper business proposal will include multiple chapters. This is just one of many chapters that may be included in your proposal. The complete fill-in-the-blank template is included in our Proposal Pack template collections. A variety of sample proposals illustrating how companies in different industries both large and small have written proposals using our Proposal Packs are also included. This template will show you how to write the Content Management Plan.
A wide variety of chapters are included and are intended to be picked based on your needs. All proposals are different and have different needs and goals. Pick the collection of chapters from our collection and organize them as needed for your proposal. Recommendations and samples provided are only intended as general guidelines.
Using the Proposal Pack template library you can create any kind of business proposal, report, study, plan or document
such as these
.
How to write my Content Management Plan document
Use the Content Management Plan to outline how you will deal with large amounts of information. Any organization that routinely produces large volumes of information is involved in Content Management. This may include print or internet publishers corporate human resource departments that create publications for employees television and radio stations etc. Content can be digital or printed words or multimedia. Content management applies to the entire cycle that content must move through acquisition or creation editing or updating publishing translation or transformation archival and retrieval. Many people may be involved. creators editors technicians programmers etc. There are often other departments affected that are not directly responsible for content such as network administrators attorneys for contracts accountants to track royalties programming executives advertisers etc. Depending on the organization and volume of content the content management process may be lengthy and complex as is the case in printed magazine or reasonably swift and simple as in the case of creating posting and archiving blogs in an online site. But in every case its important to document the process and the people involved. Content. Describe the content to be tracked here e. g. articles for magazine column segments of an online help system radio interview etc. Creation Acquisition. Describe how this piece of content will be created or acquired. Include all relevant details such as names of writers photographers or animators; steps in the contract process; and names of the parties responsible for acquiring new content. Editing Updating. Describe how this content will be edited or updated prior to publishing. Name parties responsible for final approval of content for publishing and any processes that must happen before the content can be published. Version control is often an issue in the editing updating process as piece of content may go through many different versions before being approved for publication. Publication. Describe the process of publication. Name parties responsible for printing posting online etc anyone who makes it happen.
Translation Transformation. If this content is translated into other languages or other forms for further publication such as from print to Braille or describe that process here. Name parties responsible for performing these tasks. Archival Storage. If you keep copies of content that have already been published describe how you do that here. Can your audience view old content and if so how. Describe how long content will be kept and under what conditions it can be retrieved. Name parties responsible for the archival process. Retrieval. Describe how and when previously published content can be retrieved from your archives. Name parties responsible for managing the retrieval process.
A Document from Proposal Pack

The editable Content Management Plan template - complete with the actual formatting, layout and graphics is available in the retail Proposal Packs.