This chapter template is included in every Proposal Pack along with thousands more chapter templates.
Order and download for $79.

DOWNLOADABLE, ONE-TIME COST, NO SUBSCRIPTION FEES
The goal of the Records Management Program is to develop a concise policy that clearly defines the record type, appropriate retention period, and the source of the retention requirement (whether business, statutory, or regulatory).
I landed my first big contract using your Proposal Pack. Thank you! I'm the epitome of "small business" (there are just 2 of us) and your proposal pack helped me put together a very professional looking proposal."
Cami Brumburgh
NNIS
Produced by:
Proposal Kit
Category:
Software › Computer Software › Business & Productivity Software

4.9 stars, based on
830 reviews
Alternate chapters are those which may be used instead of this chapter depending on your situation. Alternate chapters may be better suited for different size projects, more specialized projects, variations on rights, etc.

Alternate Chapters:
Related chapters may be used in conjunction with this chapter depending on your situation. Many related chapters are intended to be used together to form a more complex and integrated proposal.
Related Chapters:
This template is illustrated in actual use in the following Sample Proposals. Samples are also included in each Proposal Pack and illustate many of the industries and situations this template can be used for: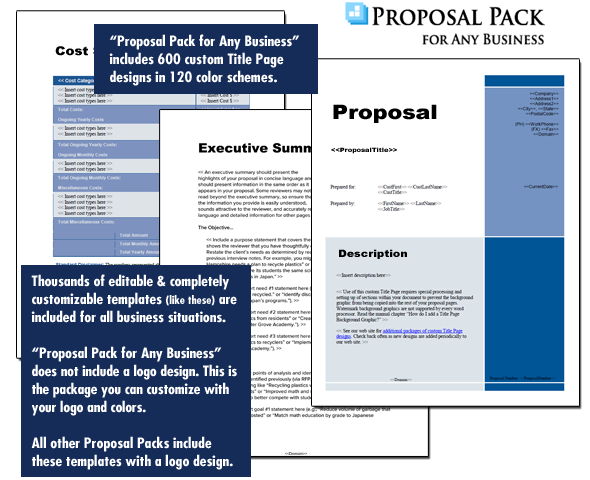 A proper business proposal will include multiple chapters. This is just one of many chapters that may be included in your proposal. The complete fill-in-the-blank template is included in our Proposal Pack template collections. A variety of sample proposals illustrating how companies in different industries both large and small have written proposals using our Proposal Packs are also included. This template will show you how to write the Records Management.
A wide variety of chapters are included and are intended to be picked based on your needs. All proposals are different and have different needs and goals. Pick the collection of chapters from our collection and organize them as needed for your proposal. Recommendations and samples provided are only intended as general guidelines.
Using the Proposal Pack template library you can create any kind of business proposal, report, study, plan or document
such as these
.
How to write my Records Management document
Company names primary focus is on functional areas within the organization that generate high volumes of content and meet the goals of the Records Management Program. An up to date inventory of the organizations documents and records is recommended to define the as is state and identify departments or business units that have gaps in standards and procedures for Records Management. As part of the formal program assessment review of all content in the context of the Records Management Program will help Company name develop policies and procedures for the new program. The policies and procedures should be authorized and adopted though change management and distributed with training. The goal of the Records Management Program is to develop concise policy that clearly defines the record type appropriate retention period and the source of the retention requirement whether business statutory or See the File Plan and Taxonomy templates for additional Records Management Program details to include. The Proposal Kit Professional contains Records Management Toolkit with an entire library of content for handing many aspects of Records Management Program. If you also purchased the full Proposal Kit Professional you will find more material in the Records Management Toolkit. Content Sources Network File Share File Cabinets Line of Business Application Policy and Procedure List
Electronic Records and Email Policy Business Computer Equipment Policy File System and Temporary File Shares Policy File Naming and Versioning Procedure Accounting Policy and Procedure Logo Use and Guidelines Policy and Procedure Audit Secure FTP Server Policy and Procedure Expense Accounts Diaries Log Books and Other Records
For the purposes of the Records Management Program Company name will perform records inventory and catalog all content to create file plan and retention schedule for the development and maintenance of the Records Management Program. The ongoing roles and responsibilities for Records Management and the adherence to records policies and compliance will need to be monitored for the long term success of the storage of physical and electronic records. Evidence shows that Company name is not following existing Records Management policies and documents should be consolidated and organized.
A Document from Proposal Pack

The editable Records Management template - complete with the actual formatting, layout and graphics is available in the retail Proposal Packs.