This chapter template is included in every Proposal Pack along with thousands more chapter templates.
Order and download for $79.

DOWNLOADABLE, ONE-TIME COST, NO SUBSCRIPTION FEES
Use this template to describe the culture of an organization or group.
Proposal Pack has great examples and will help you develop professional proposals. No need to start from scratch, this tool leverages tried and true formats and content to help you develop proposals that help you make the short list."
Simmie Graves
Manager, Engineering
Produced by:
Proposal Kit
Category:
Software › Computer Software › Business & Productivity Software

4.9 stars, based on
837 reviews
Related chapters may be used in conjunction with this chapter depending on your situation. Many related chapters are intended to be used together to form a more complex and integrated proposal.
Related Chapters:
This template is illustrated in actual use in the following Sample Proposals. Samples are also included in each Proposal Pack and illustate many of the industries and situations this template can be used for: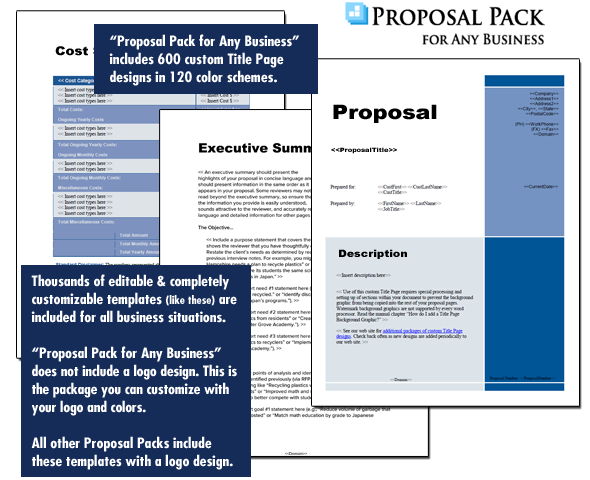 A proper business proposal will include multiple chapters. This is just one of many chapters that may be included in your proposal. The complete fill-in-the-blank template is included in our Proposal Pack template collections. A variety of sample proposals illustrating how companies in different industries both large and small have written proposals using our Proposal Packs are also included. This template will show you how to write the Culture.
A wide variety of chapters are included and are intended to be picked based on your needs. All proposals are different and have different needs and goals. Pick the collection of chapters from our collection and organize them as needed for your proposal. Recommendations and samples provided are only intended as general guidelines.
Using the Proposal Pack template library you can create any kind of business proposal, report, study, plan or document
such as these
.
How to write my Culture document
Use this template to describe the culture of an organization or group. Culture generally refers to attitudes and behaviors among groups of people but may also refer to traditions music food tastes in décor and clothing and so forth. Every group of people from nation to single family has culture. For example church is an example of an organization with very well defined culture in which certain attitudes and behaviors are actively encouraged and others discouraged. One business may have rigid culture with dress code and strict adherence to written regulations; another may have more flexible culture and celebrate independence and innovation and allow skateboards in the hallways. Introduce the importance of culture here. Why did you feel the need to include this discussion in your proposal. Are you attempting to create certain culture in new organization or change the existing culture of an established group. Describe the existing culture or the one you are hoping to create here. Items to discuss are. What is the central focus of the group or organization. Who is accepted within the culture and who is excluded. What makes this group different from others. What are the rules or standards. How do these cultural rules affect the behavior and attitudes of the group. You may want to compare and contrast one culture with another especially if you are proposing to change the existing culture of an organization.
A Document from Proposal Pack

The editable Culture template - complete with the actual formatting, layout and graphics is available in the retail Proposal Packs.