This chapter template is included in every Proposal Pack along with thousands more chapter templates.
Order and download for $79.

DOWNLOADABLE, ONE-TIME COST, NO SUBSCRIPTION FEES
Use the Damage Control template to describe actions to take after a major problem has occurred. This could be a physical problem, such as an accident or failure that caused physical or financial damage, or a political problem that harms an individual's or organization's brand or reputation.
Proposal Pack Wizard is the perfect companion to Proposal Kit. The business proposal software provides a user-friendly interface for writing proposals allowing the user to quickly input their personal and client data. With the push of a button, the proposal software does its magic and seamlessly populates all needed proposal templates to get you up and running in a snap."
Jimmy Smallwood
Web South Consulting, Inc.
Produced by:
Proposal Kit
Category:
Software › Computer Software › Business & Productivity Software

4.9 stars, based on
824 reviews
Related chapters may be used in conjunction with this chapter depending on your situation. Many related chapters are intended to be used together to form a more complex and integrated proposal.
Related Chapters: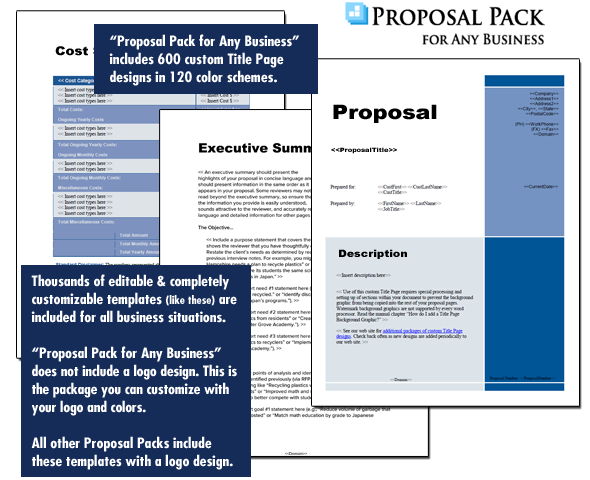 A proper business proposal will include multiple chapters. This is just one of many chapters that may be included in your proposal. The complete fill-in-the-blank template is included in our Proposal Pack template collections. A variety of sample proposals illustrating how companies in different industries both large and small have written proposals using our Proposal Packs are also included. This template will show you how to write the Damage Control.
A wide variety of chapters are included and are intended to be picked based on your needs. All proposals are different and have different needs and goals. Pick the collection of chapters from our collection and organize them as needed for your proposal. Recommendations and samples provided are only intended as general guidelines.
Using the Proposal Pack template library you can create any kind of business proposal, report, study, plan or document
such as these
.
How do you write a Damage Control document?
Use this page to describe actions to take after major problem has occurred. This could be physical problem such as an accident or failure that caused physical or financial damage or political problem that harms an individuals or organizations brand or reputation. Note that Proposal Pack includes Public Relations and Response templates that you may also want to use. History Insert general description of the incident that caused physical damage and or damaged credibility or public image. For example you might describe an incident in which an official was charged with drunk driving or an incident where company manager made controversial remark in public. Results and Implications Insert discussion of the resulting damage from this incident or the damage you expect to result in the future. For example in the case of politician sexist comment might cause loss of support among women voters. Remedy
Insert discussion of the remedial steps that should be taken to mitigate the damage. Be as specific as possible about who should perform the tasks when they should happen and how they will be done. Remedies for physical damage might include clean up switch to temporary use of alternate location or methodology and so forth. Remedies for public relations problems might include public acknowledgement of wrongdoing guarantees of future results donations whatever is appropriate to restore the good reputation of the individual or organization. Prevention of Future Incidents Discuss any ideas you have to prevent future incidents of this kind. You may need to change equipment institute new policies or change personnel roles for example. Summary Summarize the topic of damage control here highlighting any points you want to emphasize and referring to other pages as needed to provide details.
A Document from Proposal Pack

The editable Damage Control template - complete with the actual formatting, layout and graphics is available in the retail Proposal Packs.