This chapter template is included in every Proposal Pack along with thousands more chapter templates.
Order and download for $79.

DOWNLOADABLE, ONE-TIME COST, NO SUBSCRIPTION FEES
Introduce the concept of a footprint here and explain its importance within the context of this proposal.
Thanks for the great service your company has provided. I had a very important sales proposal to prepare for a realty firm, and was given only a 1-day notice. I purchased and downloaded the sales proposal [Proposal Pack] with the Real Estate design, and it was exactly what I needed. The forms were perfect, and the presentation went great. We were told it was the best she had ever seen. Thanks for a great product, and for providing it in a pinch!"
Kevin Onizuk
Managing Director/President
Breakwater Mortgage Corp.
Produced by:
Proposal Kit
Category:
Software › Computer Software › Business & Productivity Software

4.9 stars, based on
830 reviews
Alternate chapters are those which may be used instead of this chapter depending on your situation. Alternate chapters may be better suited for different size projects, more specialized projects, variations on rights, etc.

Alternate Chapters:
Related chapters may be used in conjunction with this chapter depending on your situation. Many related chapters are intended to be used together to form a more complex and integrated proposal.

Related Chapters:
This template is illustrated in actual use in the following Sample Proposals. Samples are also included in each Proposal Pack and illustate many of the industries and situations this template can be used for: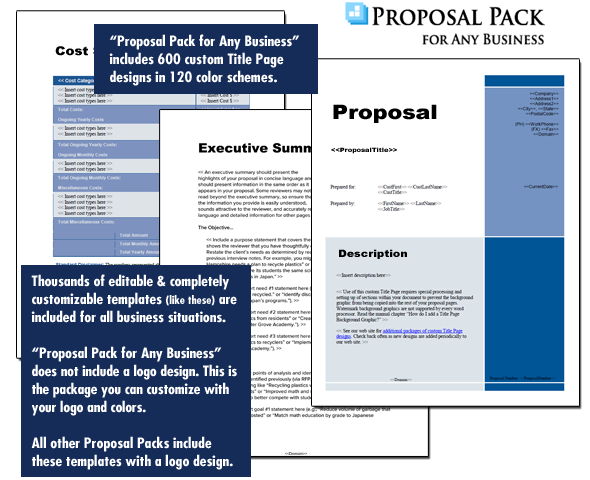 A proper business proposal will include multiple chapters. This is just one of many chapters that may be included in your proposal. The complete fill-in-the-blank template is included in our Proposal Pack template collections. A variety of sample proposals illustrating how companies in different industries both large and small have written proposals using our Proposal Packs are also included. This template will show you how to write the Footprint.
A wide variety of chapters are included and are intended to be picked based on your needs. All proposals are different and have different needs and goals. Pick the collection of chapters from our collection and organize them as needed for your proposal. Recommendations and samples provided are only intended as general guidelines.
Using the Proposal Pack template library you can create any kind of business proposal, report, study, plan or document
such as these
.
How to write my Footprint document
Introduce the concept of footprint here and explain its importance within the context of this proposal. This template might be used to describe spatial footprint such as the soil surface covered by impermeable surfaces or the floor space occupied by copier. This template can also be employed to describe usage or impact footprint such as carbon footprint or other ecological footprint. Description of Footprint Describe the footprint. This might be spatial measurement such as inches by inches or square feet or calculated sum such as the total of all carbon dioxide emissions produced by activities within time period carbon Methods for Determination of Footprint Detail the methods used to calculate the footprint. In the case of usage or impact footprints this may be quite lengthy and detailed description. Footprint Comparison Describe how this footprint compares with the average footprint of this type and discuss any ramifications of its ranking. For example you might describe how the impermeable surface covered by new house will cost the homeowner more in storm water fees and how the cost might be reduced by using gravel driveways and paths instead of concrete.
A Document from Proposal Pack

The editable Footprint template - complete with the actual formatting, layout and graphics is available in the retail Proposal Packs.