This chapter template is included in every Proposal Pack along with thousands more chapter templates.
Order and download for $79.

DOWNLOADABLE, ONE-TIME COST, NO SUBSCRIPTION FEES
The Design template is used to give an overview of the design of a project. This is a general template. Many more additional Proposal Pack templates are available to describe detailed aspects of the design.
Thanks a million. Couldn't live without my proposal software."
Shannon Cox
Argon Studios
Produced by:
Proposal Kit
Category:
Software › Computer Software › Business & Productivity Software

4.9 stars, based on
837 reviews
Alternate chapters are those which may be used instead of this chapter depending on your situation. Alternate chapters may be better suited for different size projects, more specialized projects, variations on rights, etc.

Alternate Chapters:
Related chapters may be used in conjunction with this chapter depending on your situation. Many related chapters are intended to be used together to form a more complex and integrated proposal.

Related Chapters:
This template is illustrated in actual use in the following Sample Proposals. Samples are also included in each Proposal Pack and illustate many of the industries and situations this template can be used for: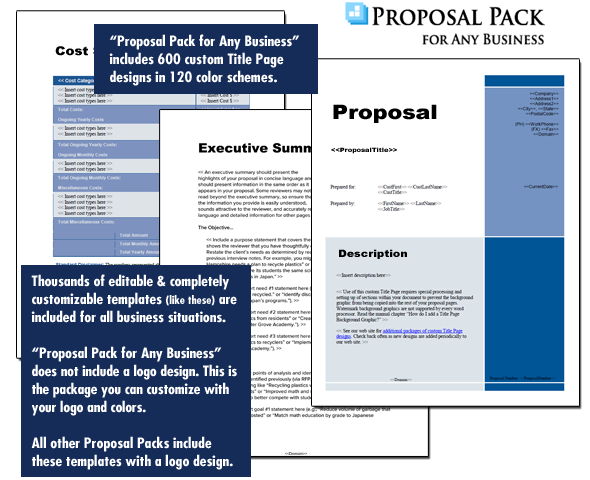 A proper business proposal will include multiple chapters. This is just one of many chapters that may be included in your proposal. The complete fill-in-the-blank template is included in our Proposal Pack template collections. A variety of sample proposals illustrating how companies in different industries both large and small have written proposals using our Proposal Packs are also included. This template will show you how to write the Design.
A wide variety of chapters are included and are intended to be picked based on your needs. All proposals are different and have different needs and goals. Pick the collection of chapters from our collection and organize them as needed for your proposal. Recommendations and samples provided are only intended as general guidelines.
Using the Proposal Pack template library you can create any kind of business proposal, report, study, plan or document
such as these
.
How to write my Design document
Following is description of our project design including how the project will be developed timeline of events and reasons for why we suggest designing the project as described. There are many templates covering various aspects of project. Some responses to RFPs and grant proposals require " Project Design" summary. You can further expand on aspects of the project design using additional templates such as Technical Approach Time Line Installation Schedule Expected Results etc. Research. Describe existing research or studies to gather information required by the project. How the project will be designed.
Describe the details of how the project will be designed and managed from start to finish. Project schedule. Describe the time line for events within the scope of the project from start to finish. Reasons for project design. Describe your reasons for designing the project as you have proposed. You may have to justify why you have chosen your unique approach.
Expected results. Describe the results expected from the project and why your approach should achieve those results.
A Document from Proposal Pack

The editable Design template - complete with the actual formatting, layout and graphics is available in the retail Proposal Packs.