This chapter template is included in every Proposal Pack along with thousands more chapter templates.
Order and download for $79.

DOWNLOADABLE, ONE-TIME COST, NO SUBSCRIPTION FEES
The Marketing Plan template is used to describe how the project will be marketed. Steps to create the marketing materials, communication and plan should be in line with the Development Schedule, Installation Schedule and other templates if used.
This program is very easy to use and is written layman's terms. There are no difficult legal terms to figure out. I like this program and recommend it to anyone who wants to create a quick document for business purposes."
Willard E. Pretlow
E. P. Willard Business Systems Inc.
Produced by:
Proposal Kit
Category:
Software › Computer Software › Business & Productivity Software

4.9 stars, based on
812 reviews
Related chapters may be used in conjunction with this chapter depending on your situation. Many related chapters are intended to be used together to form a more complex and integrated proposal.
Related Chapters:
This template is illustrated in actual use in the following Sample Proposals. Samples are also included in each Proposal Pack and illustate many of the industries and situations this template can be used for: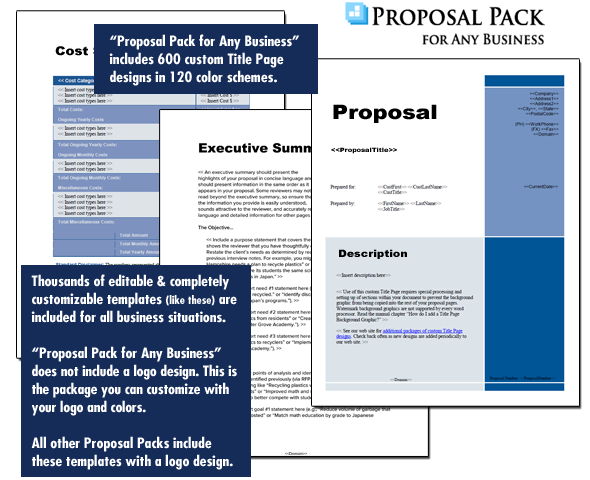 A proper business proposal will include multiple chapters. This is just one of many chapters that may be included in your proposal. The complete fill-in-the-blank template is included in our Proposal Pack template collections. A variety of sample proposals illustrating how companies in different industries both large and small have written proposals using our Proposal Packs are also included. This template will show you how to write the Marketing Plan.
A wide variety of chapters are included and are intended to be picked based on your needs. All proposals are different and have different needs and goals. Pick the collection of chapters from our collection and organize them as needed for your proposal. Recommendations and samples provided are only intended as general guidelines.
Using the Proposal Pack template library you can create any kind of business proposal, report, study, plan or document
such as these
.
How to write my Marketing Plan document
In order to facilitate creating an environment where sales can take place the following marketing plan is to be implemented. The target market has been described in the " Market and Audience" section of the proposal. Planning Process. Briefly describe the planning process & define marketing objectives Marketing Venues. Briefly describe various methods of marketing to be implemented or researched
Marketing Budget. Define the marketing budget to work with Marketing Time Table. Define the marketing timetable with an emphasis on scheduling campaigns ahead of time to coincide with project completion and the critical components of the project which must be completed before the marketing campaign can start. Follow up Marketing Plan. Briefly describe the follow up marketing campaign. This can include 2nd round marketing to mailing lists follow up postal mailings surveys etc. Marketing Analysis. Briefly describe how the results of the marketing plan will be recorded and analyzed after completion in order to judge effectiveness
A Document from Proposal Pack

The editable Marketing Plan template - complete with the actual formatting, layout and graphics is available in the retail Proposal Packs.