This chapter template is included in every Proposal Pack along with thousands more chapter templates.
Order and download for $79.

DOWNLOADABLE, ONE-TIME COST, NO SUBSCRIPTION FEES
The Non-Disclosure Form informs the prospect that the information contained is confidential. In some cases you might not be allowed to include a non-disclosure When possible, include one to prevent your prospect from sharing your proposal with competitors. If proposals are being distributed to competitors, make sure to request copies of other proposals being submitted.
Your Proposal Packs summarize in the best of fashion all the finest practices for businesses in their dealings with customers, mostly because they remain focused on the client's solution, giving back to the customer the control over his project."
Ivan Stankovic
e-nstitute, Inc.
Produced by:
Proposal Kit
Category:
Software › Computer Software › Business & Productivity Software

4.9 stars, based on
830 reviews
Alternate chapters are those which may be used instead of this chapter depending on your situation. Alternate chapters may be better suited for different size projects, more specialized projects, variations on rights, etc.

Alternate Chapters:
Related chapters may be used in conjunction with this chapter depending on your situation. Many related chapters are intended to be used together to form a more complex and integrated proposal.

Related Chapters:
This template is illustrated in actual use in the following Sample Proposals. Samples are also included in each Proposal Pack and illustate many of the industries and situations this template can be used for: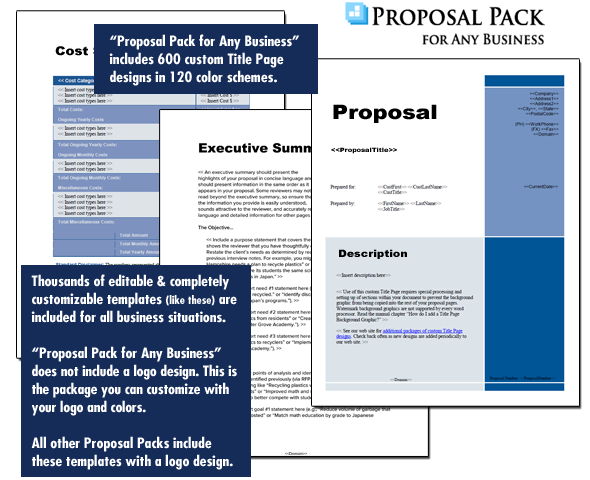 A proper business proposal will include multiple chapters. This is just one of many chapters that may be included in your proposal. The complete fill-in-the-blank template is included in our Proposal Pack template collections. A variety of sample proposals illustrating how companies in different industries both large and small have written proposals using our Proposal Packs are also included. This template will show you how to write the Non-Disclosure Form (Long Version).
A wide variety of chapters are included and are intended to be picked based on your needs. All proposals are different and have different needs and goals. Pick the collection of chapters from our collection and organize them as needed for your proposal. Recommendations and samples provided are only intended as general guidelines.
Using the Proposal Pack template library you can create any kind of business proposal, report, study, plan or document
such as these
.
Writing the Non-Disclosure Form (Long Version) document
THIS AGREEMENT is made on this day Current date by and between Company name hereafter referred to as " Company" and Company name hereafter referred to as " Customer" Each of the undersigned parties and the Company understands that both parties have desire to establish an employment consulting or other business relationship between the Company and the Customer. Each have disclosed or may disclose information & trade secrets relating to their business including but without limitation client communications and customer lists computer programs technical drawings graphics & media files algorithms scripts know how formulas processes ideas inventions whether patentable or schematics and other technical business financial customer and product development plans forecasts strategies business practices and information which to the extent previously presently or subsequently disclosed is hereinafter referred to as " Proprietary Information". " Proprietary Information" also includes proprietary or confidential information of any third party who may disclose such information to either party in the course of the either parties business. The party who discloses Proprietary Information is hereinafter referred to as " Disclosing Party" and the party who receives this information is hereinafter referred to as " Receiving Party. " Agreements In consideration of the parties discussions and any access to Proprietary Information of either party both parties make the following agreements. To hold all Proprietary Information disclosed by either party in the strictest of confidence and to take the same degree of care to protect such information as it does with its own Proprietary Information. No less than reasonable care shall be maintained by either party.
Shall be granted the use of Proprietary Information only within the scope and purpose for which it was disclosed; to be used only for the benefit of the Company; shall not exploit or permit to be used or exploited Proprietary Information for the benefit of the employee or the benefit of another without the express written permission of the Company. Not to disclose or use any such Proprietary Information or any information derived therefrom to any firm supplier business third party or other organization. Not to reverse engineer tamper alter or copy any such Proprietary Information. Not to export allow for export or distribute into the public domain any such Proprietary Information or product thereof. That all records files letters memos faxes notebooks drawings sketches reports collateral program listings or other written audio magnetic video source or other tangible material containing Proprietary Information whether the author or not are exclusive property of the Disclosing Party and are entrusted to be used only to the benefit of this relationship and shall be made available by the Disclosing Party immediately upon request by the Disclosing Party.
Upon request the Receiving Party shall turn over all Proprietary Information owned by the Disclosing Party and immediately surrender any and all records files letters memos faxes notebooks drawings sketches reports collateral program listings or other written audio magnetic video source or other tangible material containing any such Proprietary Information and any and all copies or extracts thereof. That each provision herein shall be treated as separate and independent clause and the unenforceability of any one clause shall in no way impair the enforceability of any other clauses herein. Both parties also shall not disclose the Proprietary Information to those employees who do not have qualifiable need to know such information and in any event shall be liable for all improper disclosures by its employees. Without grant of any right or license the parties agree that the foregoing shall not apply with respect to any Proprietary Information that either party can document as being Made available or becomes generally available to the public through no improper action or inaction by either party or any agent consultant affiliate contractor or employee. Disclosed to it by third party who did not owe duty of confidentiality. In its possession or known by it without restriction prior to receipt from the other party.
Independently developed without use of any Proprietary Information by employees who have had no access to such information. Either party may make disclosures required by law or court order provided it uses diligent reasonable efforts to limit disclosure and to obtain confidential treatment or protective order and has allowed the Disclosing Party to participate in the proceeding. Either party shall immediately give notice to the other of any unauthorized use or disclosure of the others Proprietary Information by the party or its employees or agents. Both parties understand that nothing herein requires. The disclosure of any Proprietary Information of the Disclosing Party or requires that either Party to proceed with any transaction or relationship. Both parties understand that except as otherwise agreed in writing that the Proprietary Information which it may receive concerning future plans is tentative and is not intended to represent contract of employment retainment nor does it constitute decision by either party concerning the implementation of such plans. Proprietary Information provided to either party hereunder does not represent commitment by either party to purchase or otherwise acquire any products or services from the other party. If either party desires to purchase or otherwise acquire any products or services from the other party the parties will execute separate written agreement to govern such transactions. This agreement supercedes all prior agreements whether written or oral between both the Disclosing & Receiving Parties as relating to the subject matter of this agreement. This agreement may not be altered modified amended or discharged in whole or in part without the express written permission of both the Disclosing and Receiving Parties. Terms and Conditions
Communications. This Agreement shall govern all communications whether electronic written oral or other medium between the parties made during the term of this Agreement. Termination. This Agreement shall expire upon thirty days written notice by either party; provided however Receiving Partys obligations under the terms of this Agreement shall continue with respect to all Proprietary Information disclosed prior to the expiration of this Agreement. Both the Disclosing and Receiving Parties obligations shall survive the termination of his her employment and shall be binding upon all heirs executors administrators and legal representatives. Remedy of Law. Both parties acknowledge and agree that due to the nature of the Proprietary Information there can be no adequate remedy of law for any breach of its obligations hereunder which breach may result in irreparable harm. Upon any such breach or any threat thereof the party disclosing the information shall be entitled to appropriate equitable relief in addition to whatever remedies it might have at law. In the event that any of the provisions of this Agreement shall be held by court to be overbroad as to scope such provision or provisions shall be limited or eliminated to the minimum extent necessary so that this Agreement shall otherwise remain compatible with the law as it shall appear. General Provisions. Governing Body.
This Agreement shall be governed by and construed in accordance with the laws of the State of State or province. Exclusive jurisdiction and venue shall be in the County County State or province Superior Court. Entire Agreement. This Agreement supersedes all prior discussions and writings and constitutes the entire agreement between the parties with respect to the subject matter hereof. The prevailing party in any action to enforce this Agreement shall be entitled to costs and attorneys fees. Binding Effect. This Agreement shall be binding upon and inure to the benefit of Customer and Developers and their respective successors and assigns provided that Developers may not assign any of his obligations under this Agreement without Customers prior written consent. Each party represents and warrants that on the date first written above that they are authorized to enter into this Agreement in entirety and duly bind their respective principals by their signature below. EXECUTED as of the date first written above. Company name By signator authorized signature or signer.
Job title of signator authorized signature or signer. Date when the contact was signed Company name By signator authorized signature or signer. Job title of signator authorized signature or signer. Date when the contact was signed
A Document from Proposal Pack

The editable Non-Disclosure Form (Long Version) template - complete with the actual formatting, layout and graphics is available in the retail Proposal Packs.