This chapter template is included in every Proposal Pack along with thousands more chapter templates.
Order and download for $79.

DOWNLOADABLE, ONE-TIME COST, NO SUBSCRIPTION FEES
Use the Pricing Model template to explain your pricing model, the methods you use to determine the value of goods or services, as well as how those goods or services will be paid for.
I have purchased this in the past (twice) for people I have worked for and I'm going to submit a proposal myself since I know how to do the work but Proposal Pack cuts a lot of the labor involved in "explaining" the process."
Lesley Hubbard
Produced by:
Proposal Kit
Category:
Software › Computer Software › Business & Productivity Software

4.9 stars, based on
824 reviews
Alternate chapters are those which may be used instead of this chapter depending on your situation. Alternate chapters may be better suited for different size projects, more specialized projects, variations on rights, etc.

Alternate Chapters:
Related chapters may be used in conjunction with this chapter depending on your situation. Many related chapters are intended to be used together to form a more complex and integrated proposal.

Related Chapters: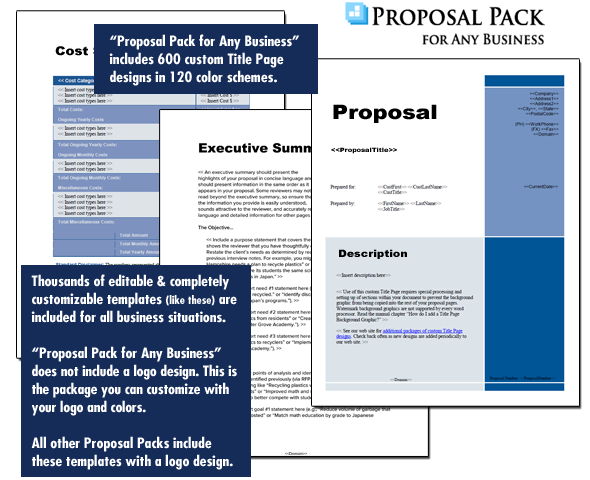 A proper business proposal will include multiple chapters. This is just one of many chapters that may be included in your proposal. The complete fill-in-the-blank template is included in our Proposal Pack template collections. A variety of sample proposals illustrating how companies in different industries both large and small have written proposals using our Proposal Packs are also included. This template will show you how to write the Pricing Model.
A wide variety of chapters are included and are intended to be picked based on your needs. All proposals are different and have different needs and goals. Pick the collection of chapters from our collection and organize them as needed for your proposal. Recommendations and samples provided are only intended as general guidelines.
Using the Proposal Pack template library you can create any kind of business proposal, report, study, plan or document
such as these
.
How to write my Pricing Model document
We use the following pricing model. Use the Pricing Model template to explain your pricing model the methods you use to determine the value of goods or services as well as how those goods or services will be paid for. For example in the case of manufactured item the pricing model can be fairly simple based on costs of raw materials and labor competitors prices and market demand; and the expectation that standard forms of payment will come from the consumer of that item. In the case of service the pricing model will be largely determined by market competition in the immediate area and the cost will be paid by the consumer of that service. In the case of something less tangible such as share of stock the pricing model can be quite complicated because it must take into account factors such as risk fluctuating dividends historical trends cost of debt and many other factors. External factors such as currency exchange rates price of oil and or precious metals and even political situations can affect pricing model. The world of finance uses variety of complex pricing models; two of the most well known are the capital asset pricing model for evaluating the rate of return for an asset and the binomial options pricing model BOPM for evaluating options. Explain your pricing model here. Be as specific as possible detailing all assumptions included in the model and if appropriate comparing historical data to the pricing model to show its accuracy.
A Document from Proposal Pack

The editable Pricing Model template - complete with the actual formatting, layout and graphics is available in the retail Proposal Packs.