This chapter template is included in every Proposal Pack along with thousands more chapter templates.
Order and download for $79.

DOWNLOADABLE, ONE-TIME COST, NO SUBSCRIPTION FEES
Use the Problem Statement template to describe the issues that you plan to address in your proposal. This page would most frequently be used in a research proposal.
Your product is amazing by the way. It cut down our bid package preparation by at least 5 days. Great product! Don't think we could do without it, now that we have it."
Kelvin Johnson
Double Eighteen Software Group Inc.
Produced by:
Proposal Kit
Category:
Software › Computer Software › Business & Productivity Software

4.9 stars, based on
837 reviews
Alternate chapters are those which may be used instead of this chapter depending on your situation. Alternate chapters may be better suited for different size projects, more specialized projects, variations on rights, etc.

Alternate Chapters:
Related chapters may be used in conjunction with this chapter depending on your situation. Many related chapters are intended to be used together to form a more complex and integrated proposal.

Related Chapters:
This template is illustrated in actual use in the following Sample Proposals. Samples are also included in each Proposal Pack and illustate many of the industries and situations this template can be used for: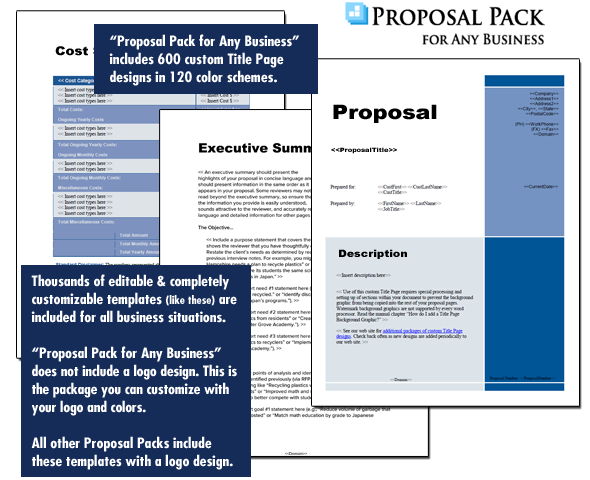 A proper business proposal will include multiple chapters. This is just one of many chapters that may be included in your proposal. The complete fill-in-the-blank template is included in our Proposal Pack template collections. A variety of sample proposals illustrating how companies in different industries both large and small have written proposals using our Proposal Packs are also included. This template will show you how to write the Problem Statement.
A wide variety of chapters are included and are intended to be picked based on your needs. All proposals are different and have different needs and goals. Pick the collection of chapters from our collection and organize them as needed for your proposal. Recommendations and samples provided are only intended as general guidelines.
Using the Proposal Pack template library you can create any kind of business proposal, report, study, plan or document
such as these
.
How to write my Problem Statement document
Use this template to describe the issues that you plan to address in your proposal. This page would most frequently be used in research proposal. We have identified the following issue to be investigated. Statement of problem to be addressed e. g. " Why do people choose to read books in electronic or printed form. " or " How long does it take coral reefs damaged by ships to recover. " Add details about this issue. You may want to provide history of the science already done in this field or describe the implications of researching this issue. For example if publishers understood the reasons why people choose ebooks or printed books publishers might change their business model to accommodate readers; if people understood how long coral reefs take to recover from ship collision shipping routes or regulations might be changed to protect them. Add reference here to other pages in your proposal such as Literature Review Research Experiments Results and so forth.
Web site domain URL
A Document from Proposal Pack

The editable Problem Statement template - complete with the actual formatting, layout and graphics is available in the retail Proposal Packs.