This chapter template is included in every Proposal Pack along with thousands more chapter templates.
Order and download for $79.

DOWNLOADABLE, ONE-TIME COST, NO SUBSCRIPTION FEES
The Client Summary is the same as the Executive Summary. Use the Client Summary when you want a less formal header than Executive. This template is better suited for small clients who may be put off by being referred to very formally.
As a Lean & Kaizen Implementation Specialist for manufacturing - I have during the past year added Green and Sustainability to my consultancy - as well as expanded my target industries. The proposal Pack Environmental has saved me the cost of hiring a designer, improved the quality and time I can produce a first-rate proposal and helped me win new business."
Peter Agnew
Produced by:
Proposal Kit
Category:
Software › Computer Software › Business & Productivity Software

4.9 stars, based on
837 reviews
Alternate chapters are those which may be used instead of this chapter depending on your situation. Alternate chapters may be better suited for different size projects, more specialized projects, variations on rights, etc.

Alternate Chapters:
Related chapters may be used in conjunction with this chapter depending on your situation. Many related chapters are intended to be used together to form a more complex and integrated proposal.

Related Chapters:
This template is illustrated in actual use in the following Sample Proposals. Samples are also included in each Proposal Pack and illustate many of the industries and situations this template can be used for: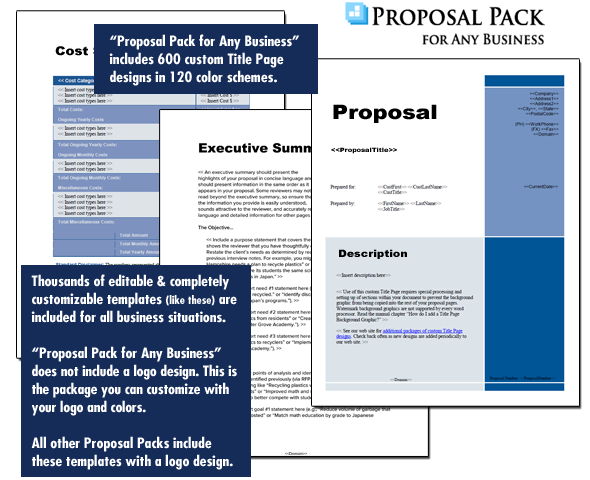 A proper business proposal will include multiple chapters. This is just one of many chapters that may be included in your proposal. The complete fill-in-the-blank template is included in our Proposal Pack template collections. A variety of sample proposals illustrating how companies in different industries both large and small have written proposals using our Proposal Packs are also included. This template will show you how to write the Client Summary.
A wide variety of chapters are included and are intended to be picked based on your needs. All proposals are different and have different needs and goals. Pick the collection of chapters from our collection and organize them as needed for your proposal. Recommendations and samples provided are only intended as general guidelines.
Using the Proposal Pack template library you can create any kind of business proposal, report, study, plan or document
such as these
.
How do you write a Client Summary document?
The Objective. Include purpose statement that covers the problem and the central idea. Restate the clients needs as determined by reading their RFP or your previous interview process. Need #1. Insert need statement here. Need #2. Insert need statement here. Need #3. Insert need statement here. The Opportunity. Include the major points of analysis and identify the opportunity. Restate the clients goals you identified previously via RFP interview etc. Goal #1. Insert goal statement here.
Goal #2. Insert goal statement here. Goal #3. Insert goal statement here. The Solution. Include recommendations for both solution and the steps required for action. Summarize what you are proposing to do and how you are going to do it to meet the goals. The full recommendation page can be added and expanded on. See the Recommendations proposal document template. Recommendation #1. Insert recommendation statement. Recommendation #2. Insert recommendation statement.
Recommendation #3. Insert recommendation statement.
A Document from Proposal Pack

The editable Client Summary template - complete with the actual formatting, layout and graphics is available in the retail Proposal Packs.