This chapter template is included in every Proposal Pack along with thousands more chapter templates.
Order and download for $79.

DOWNLOADABLE, ONE-TIME COST, NO SUBSCRIPTION FEES
The Sales Cycle template is used to describe a business sales cycle, either yours or your prospective clients depending on the type of proposal being written.
This product is amazing, I had to draft a proposal in a limited amount of time, I found this product ordered it and it worked perfectly. I nailed the client and will be using it again."
Jerry Redmond
Redmond Legal Group
Produced by:
Proposal Kit
Category:
Software › Computer Software › Business & Productivity Software

4.9 stars, based on
824 reviews
Alternate chapters are those which may be used instead of this chapter depending on your situation. Alternate chapters may be better suited for different size projects, more specialized projects, variations on rights, etc.

Alternate Chapters:
Related chapters may be used in conjunction with this chapter depending on your situation. Many related chapters are intended to be used together to form a more complex and integrated proposal.

Related Chapters: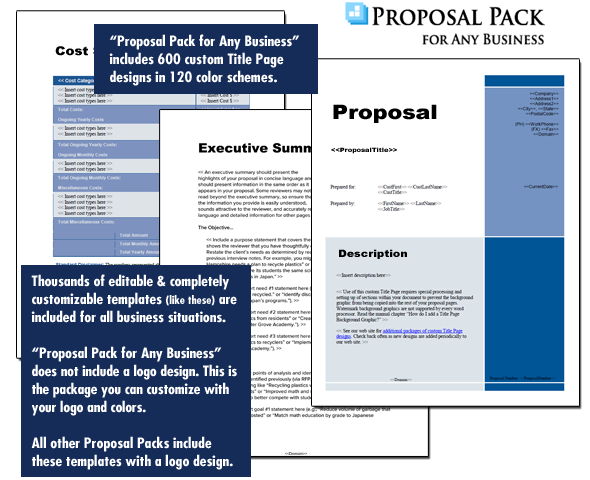 A proper business proposal will include multiple chapters. This is just one of many chapters that may be included in your proposal. The complete fill-in-the-blank template is included in our Proposal Pack template collections. A variety of sample proposals illustrating how companies in different industries both large and small have written proposals using our Proposal Packs are also included. This template will show you how to write the Sales Cycle.
A wide variety of chapters are included and are intended to be picked based on your needs. All proposals are different and have different needs and goals. Pick the collection of chapters from our collection and organize them as needed for your proposal. Recommendations and samples provided are only intended as general guidelines.
Using the Proposal Pack template library you can create any kind of business proposal, report, study, plan or document
such as these
.
How do you write a Sales Cycle document?
Company name has clear understanding of its sales cycle. This understanding has been formulated into the " Sales Plan" section of the proposal. The Sales Cycle template could also be used to describe your understanding of clients sales cycle if that is the type of proposal you are writing. Describe in general terms your sales cycle the technology used typical type of customer and the duration of the sales cycle. The Sales Cycle template will typically be used in business plan proposal when requesting funding. Improving sales will help ensure the sustainability of the company. You can also correlate improvements in the sales department to higher revenues by adding the Income Projection template. Your goal here is to show lender that you understand your own sales cycle thereby making the lender more likely to approve your funding request. You can add additional information with the Sales Plan template. Introduction. Describe your prospective customer introduction phase of the sales cycle. Building Rapport. Describe how you earn trust with your prospective customer in the rapport building phase of the sales cycle. Education.
Describe how you educate your prospective customer in the education phase of the sales cycle. Validation. Describe how you determine all of your prospective customers questions and answer them providing validation with the prospect. Close. Describe how you move from prospective customer whose questions have all been answered to closed sale.
A Document from Proposal Pack

The editable Sales Cycle template - complete with the actual formatting, layout and graphics is available in the retail Proposal Packs.