This chapter template is included in every Proposal Pack along with thousands more chapter templates.
Order and download for $79.

DOWNLOADABLE, ONE-TIME COST, NO SUBSCRIPTION FEES
The Market and Audience template is used to show your client you have an understanding of their market and target audience.
As a small business consultant, I am often called upon to assist in preparing contractual documents in many different areas. The Proposal Kit is an excellent time saver and has references to many key points that should be addressed for clarity and assigning responsibility. The ability to easily add unique logos, covers, and page formatting allows each contract to be distinctly different. Definitely add this to your toolbox."
William Green
CEO at W.O. Green Corporate Services
Produced by:
Proposal Kit
Category:
Software › Computer Software › Business & Productivity Software

4.9 stars, based on
812 reviews
Alternate chapters are those which may be used instead of this chapter depending on your situation. Alternate chapters may be better suited for different size projects, more specialized projects, variations on rights, etc.

Alternate Chapters:
Related chapters may be used in conjunction with this chapter depending on your situation. Many related chapters are intended to be used together to form a more complex and integrated proposal.
Related Chapters:
This template is illustrated in actual use in the following Sample Proposals. Samples are also included in each Proposal Pack and illustate many of the industries and situations this template can be used for: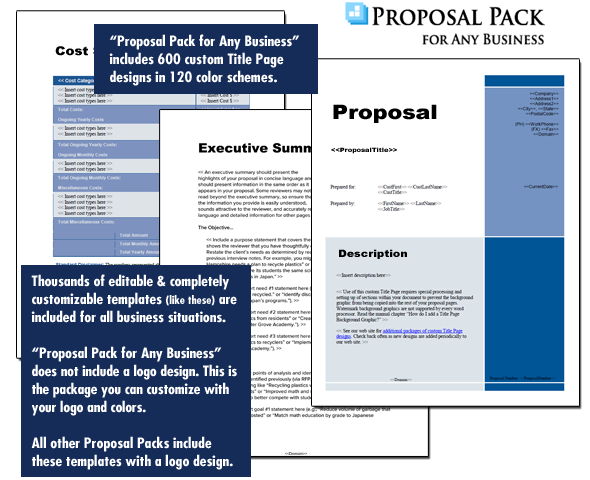 A proper business proposal will include multiple chapters. This is just one of many chapters that may be included in your proposal. The complete fill-in-the-blank template is included in our Proposal Pack template collections. A variety of sample proposals illustrating how companies in different industries both large and small have written proposals using our Proposal Packs are also included. This template will show you how to write the Market and Audience.
A wide variety of chapters are included and are intended to be picked based on your needs. All proposals are different and have different needs and goals. Pick the collection of chapters from our collection and organize them as needed for your proposal. Recommendations and samples provided are only intended as general guidelines.
Using the Proposal Pack template library you can create any kind of business proposal, report, study, plan or document
such as these
.
How do you write a Market and Audience document?
The following describes the target market and audience. The implementation of the marketing is described in the " Marketing Plan" section of the proposal. The target market niche. Briefly describe the niche market students IT professionals etc. The size of the target market. Briefly describe how many people groups or companies are in the target market Where they can be reached.
Briefly describe how to reach the target market & what channels will be used. This should also be reflected in the " Marketing Plan" Target market demographics. Briefly describe the demographics of the target market income ranges age ranges occupations sex race physical location etc. Why they are the target market. Briefly describe why they are the target market for your goods service or promotion. What qualifies them as members of the target market. Briefly describe what qualifies them to be in the target market.
What will cause the target market to respond to the campaign. Briefly describe what this target market responds to style best value prestige lowest price etc. This should be reflected in the " Marketing Plan". How this project will benefit the target market. Briefly describe what benefits the target market will receive from responding to the marketing campaign. This should be reflected in the " Marketing Plan"
A Document from Proposal Pack

The editable Market and Audience template - complete with the actual formatting, layout and graphics is available in the retail Proposal Packs.