This chapter template is included in every Proposal Pack along with thousands more chapter templates.
Order and download for $79.

DOWNLOADABLE, ONE-TIME COST, NO SUBSCRIPTION FEES
The Client Operations template is used to show your client you have an understanding of how their company operates.
At first I was reluctant to purchase Proposal Pack and thought it would be just like the others on the market but boy was I wrong! There are so many templates to chose from and it is so easy to customize them. Writing proposals has never been so simple. This was one of the best purchases we made for our organization!"
Myrlene Hoyte
Senior Way Housing, Inc.
Produced by:
Proposal Kit
Category:
Software › Computer Software › Business & Productivity Software

4.9 stars, based on
824 reviews
Alternate chapters are those which may be used instead of this chapter depending on your situation. Alternate chapters may be better suited for different size projects, more specialized projects, variations on rights, etc.

Alternate Chapters:
This template is illustrated in actual use in the following Sample Proposals. Samples are also included in each Proposal Pack and illustate many of the industries and situations this template can be used for: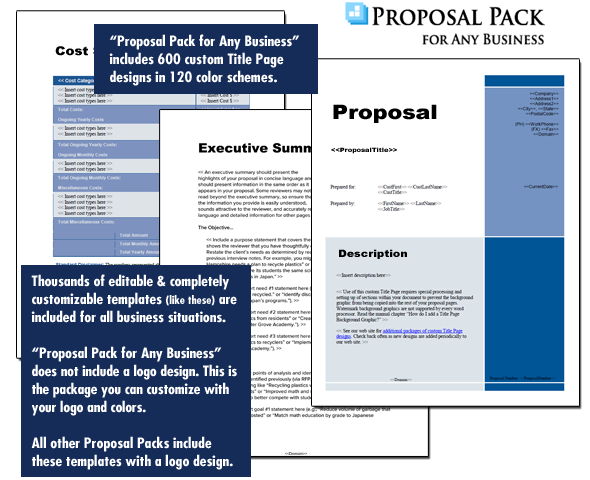 A proper business proposal will include multiple chapters. This is just one of many chapters that may be included in your proposal. The complete fill-in-the-blank template is included in our Proposal Pack template collections. A variety of sample proposals illustrating how companies in different industries both large and small have written proposals using our Proposal Packs are also included. This template will show you how to write the Client Operations.
A wide variety of chapters are included and are intended to be picked based on your needs. All proposals are different and have different needs and goals. Pick the collection of chapters from our collection and organize them as needed for your proposal. Recommendations and samples provided are only intended as general guidelines.
Using the Proposal Pack template library you can create any kind of business proposal, report, study, plan or document
such as these
.
Writing the Client Operations document
Researching every aspect of the clients business is not requirement however you must show clear understanding of the operation and processes that surround and affect the project issues Company name operates Insert number of employees here employee facility in the Insert location area here area. Labor in this market is both expensive and challenging to find. It can take up to Insert training time in hours hours to fully train new employee and the daily error rate runs at approximately Insert employee error percentage rate The employee turnover rate coupled with the high error rate causes severe productivity and profitability issues. Show clear understanding of both the clients stated needs and what the proposal will actually address related to the operations of the business Detail the opportunities for improving the clients productivity and profitability. You can expand on this in more detail using the Opportunities template Opportunity #1 Insert summary of the opportunity Opportunity #2
Insert summary of the opportunity Opportunity #3 Insert summary of the opportunity Restate for the client the expected outcome and how you perceive changes will affect productivity or profitability. You can expand on this in more detail using the Expected Results template
A Document from Proposal Pack

The editable Client Operations template - complete with the actual formatting, layout and graphics is available in the retail Proposal Packs.