This chapter template is included in every Proposal Pack along with thousands more chapter templates.
Order and download for $79.

DOWNLOADABLE, ONE-TIME COST, NO SUBSCRIPTION FEES
The Franchising template is used to describe your franchising offer to a prospective franchisee.
Proposal Kit has helped me to organize and prioritize my presentation/proposals. I have used it many times and have secured several projects. I am using it to secure projects and financial backing in agricultural product R&D."
Dave Sills
Produced by:
Proposal Kit
Category:
Software › Computer Software › Business & Productivity Software

4.9 stars, based on
812 reviews
Related chapters may be used in conjunction with this chapter depending on your situation. Many related chapters are intended to be used together to form a more complex and integrated proposal.

Related Chapters: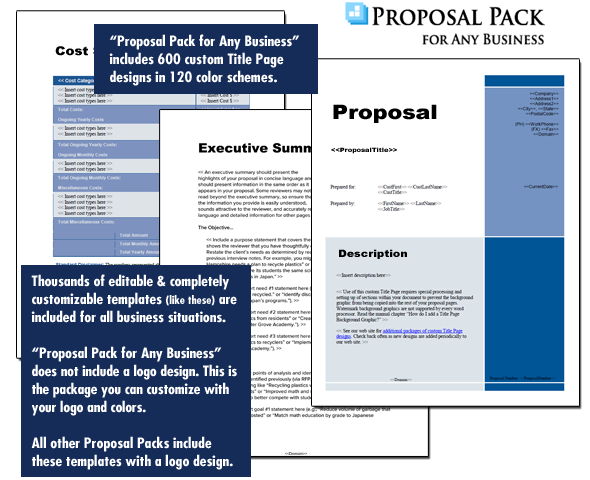 A proper business proposal will include multiple chapters. This is just one of many chapters that may be included in your proposal. The complete fill-in-the-blank template is included in our Proposal Pack template collections. A variety of sample proposals illustrating how companies in different industries both large and small have written proposals using our Proposal Packs are also included. This template will show you how to write the Franchising.
A wide variety of chapters are included and are intended to be picked based on your needs. All proposals are different and have different needs and goals. Pick the collection of chapters from our collection and organize them as needed for your proposal. Recommendations and samples provided are only intended as general guidelines.
Using the Proposal Pack template library you can create any kind of business proposal, report, study, plan or document
such as these
.
Writing the Franchising document
Company name is offering Company name the rights to open franchise location. Additional material can be found in the Uniform Franchise Offering Circular document delivered separately from this proposal. Briefly describe the various applicable aspects of your companys operations and philosophy. Depending on your industry your company operations can vary dramatically. The items outlined below cover the basics of company operations dealing with people internally and externally and business processes internally and externally now and in the future. Describe the exclusive territory or location the franchisee will be able to operate in. Describe the responsibilities of your company as the one offering the franchise opportunity. Examples include providing marketing materials training management assistance financing assistance site location goods for resale by the franchisee insurance coverage legal requirements etc. Describe the responsibilities of the franchisee. Examples include franchise fees maintaining standards of the franchise proper use of franchise trademarks service marks and logos etc.
Describe the benefits the franchisee will realize by opening franchise location. Headquartered in City State or province with Insert number of employees employees. Describe very briefly the companys key mission statement. Add additional templates to the proposal to complete your franchise package such as Location Analysis Financial Information Insurance Cost Summary Equipment Training Plan Inventory Management Company Operations Restrictions etc.
A Document from Proposal Pack

The editable Franchising template - complete with the actual formatting, layout and graphics is available in the retail Proposal Packs.