This chapter template is included in every Proposal Pack along with thousands more chapter templates.
Order and download for $79.

DOWNLOADABLE, ONE-TIME COST, NO SUBSCRIPTION FEES
The Company Information template describes general details about your company.
Proposal Pack Wizard is the perfect companion to Proposal Kit. The business proposal software provides a user-friendly interface for writing proposals allowing the user to quickly input their personal and client data. With the push of a button, the proposal software does its magic and seamlessly populates all needed proposal templates to get you up and running in a snap."
Jimmy Smallwood
Web South Consulting, Inc.
Produced by:
Proposal Kit
Category:
Software › Computer Software › Business & Productivity Software

4.9 stars, based on
801 reviews
Alternate chapters are those which may be used instead of this chapter depending on your situation. Alternate chapters may be better suited for different size projects, more specialized projects, variations on rights, etc.

Alternate Chapters:
Related chapters may be used in conjunction with this chapter depending on your situation. Many related chapters are intended to be used together to form a more complex and integrated proposal.

Related Chapters:
This template is illustrated in actual use in the following Sample Proposals. Samples are also included in each Proposal Pack and illustate many of the industries and situations this template can be used for: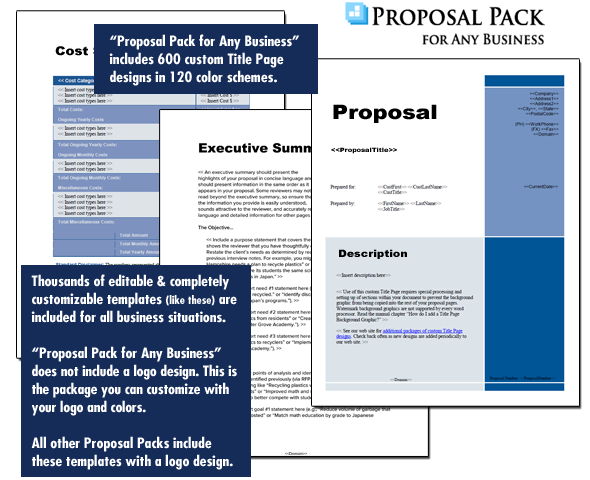 A proper business proposal will include multiple chapters. This is just one of many chapters that may be included in your proposal. The complete fill-in-the-blank template is included in our Proposal Pack template collections. A variety of sample proposals illustrating how companies in different industries both large and small have written proposals using our Proposal Packs are also included. This template will show you how to write the Company Information.
A wide variety of chapters are included and are intended to be picked based on your needs. All proposals are different and have different needs and goals. Pick the collection of chapters from our collection and organize them as needed for your proposal. Recommendations and samples provided are only intended as general guidelines.
Using the Proposal Pack template library you can create any kind of business proposal, report, study, plan or document
such as these
.
How do you write a Company Information document?
Insert information about your company here. Insert your mission statement here. Insert your unique selling proposition here. Insert significant industry developments accomplished by your company here. Insert information about your production capabilities equipment used and production capacity here. Company name was founded in insert date here and employs insert employee count here people. Company name is headquartered in insert headquarter location here and has offices in insert additional locations here Insert details about the ownership of your company. Products Insert information about your products here.
Services Insert information about your services here. How to Contact Company name If you need to contact us for any reason you can reach us at. Company name Address Address City State or province Zip or postal code Country Phone. Phone number Fax. Fax number
E Mail. mail URL. Web site domain URL
A Document from Proposal Pack

The editable Company Information template - complete with the actual formatting, layout and graphics is available in the retail Proposal Packs.