This chapter template is included in every Proposal Pack along with thousands more chapter templates.
Order and download for $79.

DOWNLOADABLE, ONE-TIME COST, NO SUBSCRIPTION FEES
Use the Prototyping template to describe your plans for creating prototypes.
I recently purchased one of your proposal packs. I must admit the proposal packs are excellent. You have successfully streamlined the process so that I can focus on the details of the content of the proposal. Thank you for that. You have made life simpler for my business to grow effectively."
Sharon
Produced by:
Proposal Kit
Category:
Software › Computer Software › Business & Productivity Software

4.9 stars, based on
837 reviews
Alternate chapters are those which may be used instead of this chapter depending on your situation. Alternate chapters may be better suited for different size projects, more specialized projects, variations on rights, etc.

Alternate Chapters:
Related chapters may be used in conjunction with this chapter depending on your situation. Many related chapters are intended to be used together to form a more complex and integrated proposal.

Related Chapters:
This template is illustrated in actual use in the following Sample Proposals. Samples are also included in each Proposal Pack and illustate many of the industries and situations this template can be used for: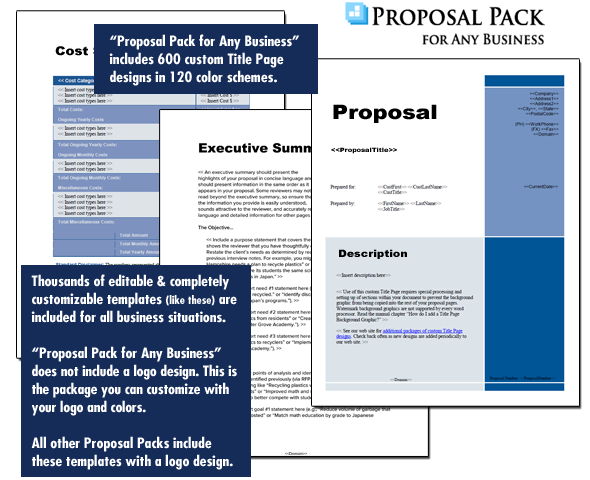 A proper business proposal will include multiple chapters. This is just one of many chapters that may be included in your proposal. The complete fill-in-the-blank template is included in our Proposal Pack template collections. A variety of sample proposals illustrating how companies in different industries both large and small have written proposals using our Proposal Packs are also included. This template will show you how to write the Prototyping.
A wide variety of chapters are included and are intended to be picked based on your needs. All proposals are different and have different needs and goals. Pick the collection of chapters from our collection and organize them as needed for your proposal. Recommendations and samples provided are only intended as general guidelines.
Using the Proposal Pack template library you can create any kind of business proposal, report, study, plan or document
such as these
.
How to write my Prototyping document
Use the Prototyping template to describe your plans for creating prototypes. The term prototype is often used interchangeably with the term model. Proposal Pack also includes Modeling template that you might choose to use to describe your project. A prototype is representation of an idea built to test design and engineering concepts or to elicit further discussion of project. For example an aviation company might build prototype of new airplane wing in order to test it in wind tunnel; furniture designer might construct prototype of new chair design to get the opinions of furniture retailers. prototype might be constructed to test only the look and feel of new product or it might be working prototype in which the product is fully operational so that its functions can be tested. Prototypes can also be generated by computer programs and exist only as computer files instead of as physical objects. Generally speaking most design projects create several prototypes before settling on final design that will be produced. Introduce the topic of prototyping here and explain why it is vital to your project to create one or more prototypes. Describe your plan for creating one or more prototypes here. Issues to include are. the reasons for constructing the prototype how and when the prototype will be created and how much it will cost how the prototype will be evaluated and what will happen after evaluation is complete.
A Document from Proposal Pack

The editable Prototyping template - complete with the actual formatting, layout and graphics is available in the retail Proposal Packs.