This chapter template is included in every Proposal Pack along with thousands more chapter templates.
Order and download for $79.

DOWNLOADABLE, ONE-TIME COST, NO SUBSCRIPTION FEES
Use this template to explain how you have analyzed an aspect of your proposal or how you propose to undertake an analysis.
I have been using proposal pack for several years. It is a life saver when it comes to organize your thoughts about sending a proposal. I use it frequently. the professional look is superb."
John Hamati
President, Vie Hospitality
Produced by:
Proposal Kit
Category:
Software › Computer Software › Business & Productivity Software

4.9 stars, based on
824 reviews
Alternate chapters are those which may be used instead of this chapter depending on your situation. Alternate chapters may be better suited for different size projects, more specialized projects, variations on rights, etc.

Alternate Chapters:
Related chapters may be used in conjunction with this chapter depending on your situation. Many related chapters are intended to be used together to form a more complex and integrated proposal.
Related Chapters:
This template is illustrated in actual use in the following Sample Proposals. Samples are also included in each Proposal Pack and illustate many of the industries and situations this template can be used for: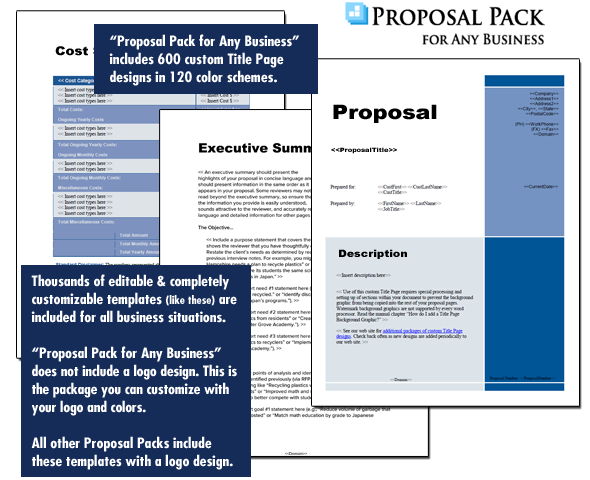 A proper business proposal will include multiple chapters. This is just one of many chapters that may be included in your proposal. The complete fill-in-the-blank template is included in our Proposal Pack template collections. A variety of sample proposals illustrating how companies in different industries both large and small have written proposals using our Proposal Packs are also included. This template will show you how to write the Analysis.
A wide variety of chapters are included and are intended to be picked based on your needs. All proposals are different and have different needs and goals. Pick the collection of chapters from our collection and organize them as needed for your proposal. Recommendations and samples provided are only intended as general guidelines.
Using the Proposal Pack template library you can create any kind of business proposal, report, study, plan or document
such as these
.
How do you write a Analysis document?
Use this template to explain how you have analyzed an aspect of your proposal or how you propose to undertake an analysis. For example you might explain how you will analyze problems with quality control on production line how you have analyzed the needs of your client or how you have analyzed the impact of change you are proposing. Proposal Pack includes many templates that deal with specialized types of analysis. For accounting uses you may want to choose from the following templates. Breakeven Analysis Cash Flow Analysis or Cost Benefit Analysis. For other business purposes you may want to choose one of these specialized templates. Competitive Analysis Location Analysis Risk Analysis or SWOT Strengths Weaknesses Opportunities and Analysis. To analyze how tax or new regulations or another burden will affect company or group use the Burden Analysis template. And for an analysis of how well your proposal process worked use the Post Proposal Analysis Checklist. Introduce the topic of analysis and describe why analysis is important to this proposal. Subject of Analysis Describe what you have analyzed or propose to analyze. For example you might describe problem with worker retention and the need to discover the reasons behind it or you might describe supply process that needs to be streamlined. Analysts Describe who performed or will perform the analysis and why they are qualified to examine and make recommendations on the subject. Analysis Methodology
Describe how the analysis has been or will be performed. You may need to include details about schedule and steps included in the analysis. Results of Analysis If the analysis has been completed describe the results here. If you are proposing the analysis describe how when and to whom results will be reported.
A Document from Proposal Pack

The editable Analysis template - complete with the actual formatting, layout and graphics is available in the retail Proposal Packs.