This chapter template is included in every Proposal Pack along with thousands more chapter templates.
Order and download for $79.

DOWNLOADABLE, ONE-TIME COST, NO SUBSCRIPTION FEES
The Industry Trends template is used to show your client you have an understanding of the overall trends in the client's industry which can give you an edge over competitors who may not see the bigger picture.

As above, this can take a fair amount of research on your part to complete if you are not part of that industry already.
Proposal Pack is absolutely AWESOME. It saves me a ton of time when I am responding to RFPs for my Destination Management Company. Once you get the initial documents set up it takes no time to go in and make a few changes. Try it out. I'm sure you'll love it."
Antwone Stigall
Events With EAS
Produced by:
Proposal Kit
Category:
Software › Computer Software › Business & Productivity Software

4.9 stars, based on
837 reviews
Alternate chapters are those which may be used instead of this chapter depending on your situation. Alternate chapters may be better suited for different size projects, more specialized projects, variations on rights, etc.

Alternate Chapters:
Related chapters may be used in conjunction with this chapter depending on your situation. Many related chapters are intended to be used together to form a more complex and integrated proposal.

Related Chapters:
This template is illustrated in actual use in the following Sample Proposals. Samples are also included in each Proposal Pack and illustate many of the industries and situations this template can be used for: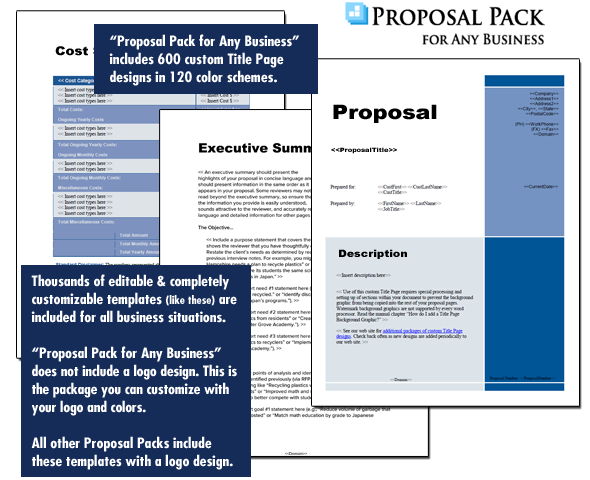 A proper business proposal will include multiple chapters. This is just one of many chapters that may be included in your proposal. The complete fill-in-the-blank template is included in our Proposal Pack template collections. A variety of sample proposals illustrating how companies in different industries both large and small have written proposals using our Proposal Packs are also included. This template will show you how to write the Industry Trends.
A wide variety of chapters are included and are intended to be picked based on your needs. All proposals are different and have different needs and goals. Pick the collection of chapters from our collection and organize them as needed for your proposal. Recommendations and samples provided are only intended as general guidelines.
Using the Proposal Pack template library you can create any kind of business proposal, report, study, plan or document
such as these
.
How do you write a Industry Trends document?
Define the past trends in clients industry In this current economy businesses of all sizes types and specialties have been impacted both in their sales and in profits. This trend has shown itself to be Insert cause of current business trend such as interest rates consumer spending industry slump seasonal variations etc. In the past Company name has weathered such occurrences but in this instance faster resolution needs to occur. Clarify the importance of trends related to this project Insert statement about why it may be difficult to sell products and services at this time and what may be required for that situation to change. For example if selling luxury items it may be more difficult to sell when consumer confidence is lower Insert forward looking aspects of expected future trends in clients industry With over Insert length of time months in the current economic position financial experts on Wall Street are forecasting turnaround within the next Insert length of time months. Define how this proposal fits with trends projections and expected future needs if applicable The proposal outlined will increase sales in the current economy and position Company name for continuing growth opportunities as the situation improves. The growth plan also allows Company name to maintain controlled growth for employees during this phase.
A Document from Proposal Pack

The editable Industry Trends template - complete with the actual formatting, layout and graphics is available in the retail Proposal Packs.