This chapter template is included in every Proposal Pack along with thousands more chapter templates.
Order and download for $79.

DOWNLOADABLE, ONE-TIME COST, NO SUBSCRIPTION FEES
Use this template to describe a market study that you have done. Market studies are generally undertaken to determine whether there is an unsatisfied demand for goods or services among a particular population.
I just wanted to thank you very much, the very first time I used your Proposal Pack I sent it to the health care system and I got a beautiful email saying 'that was exactly the format that I was hoping for' and he wants to do business on Monday, which was amazing as before he was looking at next year. So I want to thank you, you are an enormous help, and for the hands on, you gave me the confidence and the help that I needed."
Nancy Pack
Produced by:
Proposal Kit
Category:
Software › Computer Software › Business & Productivity Software

4.9 stars, based on
837 reviews
Related chapters may be used in conjunction with this chapter depending on your situation. Many related chapters are intended to be used together to form a more complex and integrated proposal.

Related Chapters:
This template is illustrated in actual use in the following Sample Proposals. Samples are also included in each Proposal Pack and illustate many of the industries and situations this template can be used for: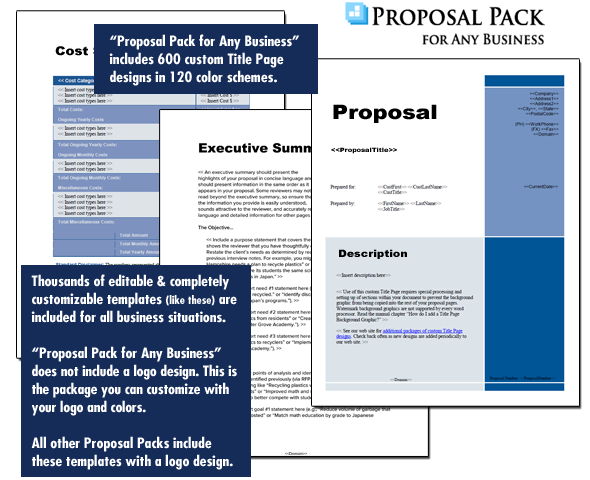 A proper business proposal will include multiple chapters. This is just one of many chapters that may be included in your proposal. The complete fill-in-the-blank template is included in our Proposal Pack template collections. A variety of sample proposals illustrating how companies in different industries both large and small have written proposals using our Proposal Packs are also included. This template will show you how to write the Market Study.
A wide variety of chapters are included and are intended to be picked based on your needs. All proposals are different and have different needs and goals. Pick the collection of chapters from our collection and organize them as needed for your proposal. Recommendations and samples provided are only intended as general guidelines.
Using the Proposal Pack template library you can create any kind of business proposal, report, study, plan or document
such as these
.
How to write my Market Study document
Use this template to describe market study that you have done. Market studies are generally undertaken to determine whether there is an unsatisfied demand for goods or services among particular population. For example before you introduce new product or service into specific area you would be wise to do good market study to attempt to predict whether or not your venture is likely to be enthusiastically welcomed. Note that Proposal Pack contains many templates that you may want to use to extend this market study such as Strengths Weaknesses Opportunities and Threats pages. Describe the purpose of your market study in an introductory paragraph here. In other words why are you doing market study. What do you hope to learn from it. Study Methodology Describe how and when you gathered the information presented in this market study as well as by whom the data was analyzed and summarized. Be sure to include any limitations of the study so everyone understands the data presented. Target Market
Insert description of the market here. For example " Restaurant Patrons in Detroit Michigan" or " Grocery Store Owners in Topeka Kansas. " Details Describe details of your target market here are you targeting specific ages or genders geographic areas income levels or sizes of businesses. Wants or Needs Describe what your target market is looking for what wants or needs they have. Are they trying to solve particular problem. Are they looking for specific benefits. Current Situation Describe how your target markets wants or needs are currently being met. Who are your competitors. Is the target market satisfied with the current situation. Describe their attitudes about the status quo.
Determining Factors Describe how your target market makes decisions whether or not to buy product or use service. Does cost proximity or ease of use affect their purchasing decisions. Market Size Describe the size of your target market. You may need to break the market down into various segments and describe each here. Growth Potential Describe how why you believe this target market will grow. For example if teenagers are your target market youll want to calculate how many children will age into that market within the next few years; if your target market is all car manufacturers youll want to try to calculate how many new cars will be built in the near future. Usage Rate Describe the current situation for the category in which your product or service would fall. For example if youre selling bicycles how often does the target market purchase or service bicycle. If there are factors that are likely to change the rate at which the products or services are consumed explain those here too. For example the purchasing rate for pumpkin products rises substantially in the United States in autumn and winter.
Competitors Describe the competitors youve identified along with everything you know about their successful products and market shares. You may want to include potential competitors here as well as existing competitors. Competitive Analysis Describe how you believe you can compete in this target market. What will set your product or service apart from your competitors and help you succeed. You may want to use the Competitive Analysis template to do detailed competitive analysis of the market; in that case just refer to that document here. Additional Information Add any details needed here such as timing issues or events that could affect the market potential. For example fluctuations in the cost of transporting goods might affect whether or not you can sell finished products at competitive prices in distant markets. Recommendations
What do you recommend to do next. Are further studies needed or do you believe you should enter this market. Be as specific as you can be.
A Document from Proposal Pack

The editable Market Study template - complete with the actual formatting, layout and graphics is available in the retail Proposal Packs.