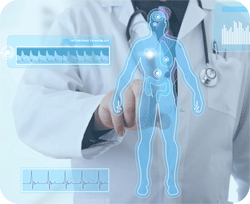 Are you in the healthcare field? That category covers many different types of businesses. You might be a physician or the manager of a medical group; you might provide rehabilitation services for the injured or care for persons with disabilities; you might sell medical insurance, provide pharmaceutical supplies, or specialize in hospital records management. The list of medicine-related businesses is endless.
The healthcare business is growing exponentially, and your competition is, too. You're no doubt seeking to grow your business and attract new clients, or perhaps you're looking for funding to start up or expand your business. How are you going to attract the clients you need, or secure your funding so your business can succeed? You could send out form letters. You could pay for an ad in a paper or magazine. That might get results. But to improve your chances of landing new contracts or getting that funding, sooner or later you will need to write a business proposal.
Don't panic! Writing a proposal is not as hard as it may sound. No matter what sort of business you're representing, there is a basic four-part structure to every proposal. You start by 1) introducing yourself, and then 2) demonstrate that you understand your prospective client's needs. Next, you 3) describe your goods and services and list your costs, and finally, you 4) convince the client or grant committee that you are the best pick to provide the solutions you've proposed. There's no need to begin by staring at a blank computer screen, either. Using products with pre-designed templates, samples, and automation software can give you a big head start.
Let's break it down a bit further. As described above, all service proposals follow the basic four-part structure. The length of your proposal will depend on three things: the needs of the client, the complexity of the project, and your type of business. Five to ten pages is an average proposal length, but a complex proposal might include dozens (or even hundreds) of pages. A very short proposal might contain only a Cover Letter, a list of Products or Services Provided, and a Price List.
The secret to creating a successful proposal is to tailor it for the party who will make the decision on whether or not to accept your proposal. This means that you need to put yourself in that party's shoes. What do they need and want? What are their concerns? The effort you put into researching your potential clients will pay off in creating a customized proposal that is much more likely to beat the competition.
Customizing a proposal won't prevent you from using a lot of the same pages in multiple proposals. Of course you'll do that, because much of the information you provide about your products and services will be of interest to all your potential clients. Creating a customized proposal simply means that you target each proposal to a specific client's needs. Always keep this in mind: a proposal is a sales document intended to convince clients to give you their business or persuade grant committees to award the funding you seek.
The introduction section in a proposal usually consists of a Cover Letter and a Title Page. Print your Cover Letter on your company letterhead, and keep it concise; just explain who you are and provide your contact information. A Title Page is precisely that: a page that introduces your proposal and names the specific project you are discussing. Some examples might be "Proposal to Manufacture N95 Masks and Protective Wear," "Proposed Health Insurance Policies for GTS Corporation," "Traveling Medical Screening Services for Rural Areas," or "Proposal to Set Up an Emergency Medical Clinic in Maxus County."
If you are writing a complex proposal, you may need to preface the rest of the proposal with a detailed summary (often called an Executive Summary or a Client Summary) - that's basically a summary list of your most important points. Next, you'll write a section focused on the client. Here you will show your understanding of your client's needs and concerns. In this section, your goal is to describe your prospective client's requirements, needs, and concerns. You will include pages that discuss issues of interest to that particular client, such as Privacy, Insurance, Cost Management, Protocols, Conditions, Special Needs, and so forth. This section is all about your client.
After this client-centered section comes the section that's focused on what you can do for the client. In this section, you will show that you have the solutions to the needs described in the previous section. You'll add pages with titles like Diagnosis, Treatment, Therapies, Screening, Intervention, Products, Services Provided, Safety Plan, Price List, Services Cost Summary, and so forth - include all the topics you need to describe exactly what you propose to provide and what the cost will be. You may need specialized topics that address your employees' education or experience in specific medical conditions or practices. Add pages with details the client will want to know, such as descriptions of your Personnel, your Training Plan, Certifications, Insurance, Facilities, Safety Plan, Policies, Security, and so on.
Your individual proposal pages will vary according to your business.
A product manufacturer may need to propose production of healthcare safety equipment or retooling of facilities to create a new line of healthcare supplies.
A research firm may need to write a report on an infectious disease study.
A records management company may have to deal with selling both services and hardware and software products.
A medical transcription and billing service would include topics such as Services Provided, Rates, Transcription, References, Qualifications, Billing Options, and so on.
A CPR and first aid training provider may use topics such as Standards Compliance, Certifications, Staffing, Training, Qualifications, Services Provided, Rates, Scheduling, and so on.
A rehabilitation center would need to talk about Coordination with other medical organizations, interacting with Insurance companies, and developing an individual care program for each patient.
A proposal to open a new clinic will deal with a number of topics from other speciality situations such as business plan and real estate proposals. Topics will cover the financials of a new clinic as well as building and construction issues.
A biotech company may be dealing with issues such as Discoveries, Research and Development, Future Developments, Growth Areas, Diagnostics, Screening, Patents, Trademarks, and so on.
A pharmaceutical manufacturing proposal may encompass many types of proposals such as research and development, case studies, manufacturing, automation, logistics, distribution, and so on drawing from thousands of topics in the Proposal Pack.
A medical supply company would need to describe specific products and address how to train employees in the proper usage of those products.
A charity delivering hospice services to homebound patients would need to discuss Privacy and Legal Considerations, Personnel, Religion, Teamwork with family and other care providers, End of Life issues, and so forth.
Here are some related samples included in every Proposal Pack:
Next, after the section describing how you can provide solutions to the client's needs comes the final section, where you provide data about your organization and your experience. Your goal is to conclude your proposal by persuading the readers that you have credibility and will deliver the goods and services you have promised. Here, you'll add pages like Our Clients, Benefits, Testimonials, Awards, About Us / Company History, References, Qualifications, Case Studies, and so forth - all the topics you need to persuade your potential clients that you are worthy of their trust and deserve their business.
After you have included all the pages you need, spend some time to make your proposal visually appealing. Your goal is to stand out from your competition. Consider selecting fonts and custom bullet points that match your business style, using pages with colored borders, and incorporating your organization's logo to add interest. Learn how to effectively select colors for a winning business proposal.

Proposal Pack for Any Business covers this type of proposal and includes samples. There are also some commonly used specialty design themes available:
Be sure to proofread and spell-check every page. Overlooking mistakes in your own work is easy to do, so it's best to recruit someone who is unfamiliar with the project to do the final proof.
Finally, save your proposal as a PDF file or print and bind it, then deliver the proposal to the potential client. It's common to email PDF files to clients these days, but keep in mind that a printed, hand-delivered proposal could be more impressive. If the new contract or funding that you seeking is especially valuable, you might want to put more effort into the final proposal and delivery to beat out the competition.
You can now see that each proposal written for a healthcare/medical business will be a bit different. The specific proposal pages will vary by project and type of business and, as discussed above, each proposal should be customized for the party receiving it.
But you also see that all business proposals have a similar structure. And, as mentioned earlier, you don't need to start from scratch - you can find templates for all the pages mentioned in this article in a package called Proposal Kit. The templates include instructions and examples of information to include on each page. Proposal Kit also includes a wide variety of sample proposals, including samples for medical records management, for insurance policies, and for occupational therapy services. By starting with Proposal Kit's templates and samples, you will be able to quickly and efficiently create your own winning business proposal.