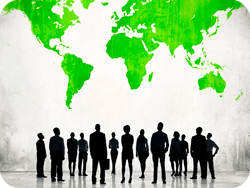 Do you have a great business idea that you need to get off the ground? Are you trying to convince a partner to join you, or seeking investors to launch your project? Of course you'll do your best to persuade people in person, but any serious business professional will want to see a written proposal.
You're the expert on your ideas, so you will need to write that proposal, or at least manage the process of hiring a writer and perfecting the proposal.
You probably think of yourself more as an entrepreneur than a professional writer, but don't worry. Writing a business proposal to pitch your ideas is not as hard as it might sound, once you understand the basics of what should go into such a proposal.
Although individual sections will vary in content and length depending on the complexity of your proposed project and the types of information you need to supply, every good business proposal should follow a standard four-part sequence:
Introduction
Reader-focused section
Description of your proposal plan
A section that explains your credibility and ability to fulfill your promises
Let's start at the very beginning, working down as if you just opened the proposal package. The page on top should be a Cover Letter that accompanies your proposal. Keep it short - explain who you are and why you're sending the proposal at this time, and include a statement of what you would like the recipient to do after reading your proposal - call you for a meeting, sign the enclosed agreement, invest a specific amount, etc. Also, be sure to include in the Cover Letter all your pertinent contact information - email, phone(s), websites, mailing addresses, and so forth.
Next, to start off your proposal, you'll create a Title Page, which is simply a name for your proposal. Keep it descriptive, like "Proposal for Joint Venture with NG Company to Develop New Marine Services Division," "Opportunity to Expand into Foreign Markets,"or "Proposal for Investors in New Line of Personal Care Products."
If your proposal is short, that may be all you need for an Introduction section. But if your proposal is more complex, you may need to come back later and add a Table of Contents and an Executive Summary. An Executive Summary is basically a list of the most important points you make within your proposal, offered for top-level executives who may not have time to analyze (or even read) each page.
Now for the reader-focused section. Consider the party to whom you are submitting this proposal - is this a group of investors? A potential business partner? What do they want to know? Why did you choose them? What will their concerns be? All parties want to know what is in the deal for them.
In this section, you need to prove that you understand who you're pitching to and what their needs are. Most important of all, you must explain how your proposal will benefit that party. If you need to do some research for this section, do it before you write. In this section, you will include pages like Needs Assessment, Benefits, Cost/Benefit Analysis and possibly Requirements, Budget, Schedule, Deadlines, and so forth. Be sure to keep in mind that in this section you are describing the needs of and the benefits to your potential investors or partners, not your own goals and desires. A winning proposal should remain focused on the reader, not on the party proposing the project.
After this reader-focused section comes the section where you describe your project in detail and explain what it will cost. This will most likely be the longest section in your proposal, because it should contain all the topic pages you need to explain your ideas. Be sure to include all the details your reader will want to know.
Depending on your proposed project, you might have pages describing Services Offered, Products, Costs, Timeline, Deals, Venues, Facilities, Strategic Relationships, Globalization, Customers, Market Share, and/or Advertising - the list is endless because your goal is to include all the topics you need to describe everything you propose to do, how you plan to do it, and what your expenses will be. You may to include financial pages describing Cash Flow or a projected Return on Investment (ROI). As always, put yourself in your readers' position - what questions will they have? The more specific you are, the more likely your proposal is to persuade the reader that you have done your research, have a good plan, and can fulfill your promises.
You get a chance to brag about yourself in the last section of your proposal. Here, your goal is to include all the information you have that will persuade the reader that you are trustworthy and can carry out the plan you detailed in the previous section. At the very least, you'll want a Company History or About Us page that explains your organization's background. Pages like Experience, Projects, Qualifications, Capabilities, and Clients Served are useful, too, to show your experience with similar projects. You might want to explain any special Training or Credentials you have, or list your Staff or Team Members, and even add Resumes or Biography pages. If you have Awards or Testimonials, you'll certainly want to include them, because it's always better to have others compliment you than to boast about yourself.
Here are some related samples included in every Proposal Pack:
That's it! Doesn't sound so hard, does it? But after you have all the words on paper, you still need to do two things before you send your proposal out:
Proofread it to be sure there are no grammar, punctuation, or spelling mistakes
Make sure each page looks neat and professional, too. You might want to add colored borders or special fonts or bullet points to add visual interest
After you have all the information down on the pages, focus on ensuring that your proposal is visually appealing. Incorporate your company logo, use colored page borders, and/or select interesting fonts and custom bullets to add color and visual design. Just be sure to match your company style when making these selections. Learn how to effectively select colors for a winning business proposal.

Proposal Pack for Any Business covers this type of proposal and includes samples. There are also some commonly used specialty design themes available:
You can get a big head start on writing and formatting your proposal by purchasing a dedicated product like Proposal Kit, which is - as its name implies - specially designed for writing proposals. It includes all the topic pages listed above, as well as over a thousand others, and blank pages you can use for any topic. Each topic page (or template) includes examples and suggestions about the information to include on that page, so you'll never be stuck looking at blank sheet and thinking "What goes here?"
The templates are professionally designed, so you can make sure your proposal will look as good as it sounds. You can also purchase special design themes, or add your own business logo to your pages. Naturally, the product includes instructions for use, as well as helpful articles and tips on writing proposals. There are contract templates in the package, too; you can adapt these to cover your situation.
And to give you great ideas, every Proposal Kit package includes over a hundred sample proposals, so you can see how a proposal similar to yours might look and what it might contain. If you want help with assembling your proposal and creating a Table of Contents, you might choose to purchase the optional Wizard program. You'll find that Proposal Kit is a great buy for writing proposals of all kinds, as well as reports and general business documents.