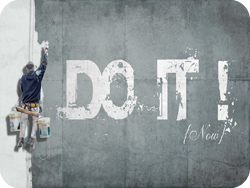 Are you working in a business where you need to constantly dash off a short price quote or bid for each potential customer? This practice is especially prevalent in the building and home maintenance industries, and in some sales fields where bundle deals or discounts are commonly offered to various customers.
You could just dash off a few notes and numbers on a piece of paper, but that is not likely to inspire confidence, especially if substantial money is involved in the project.
It's best to meet the potential customer in person and hand them a business card, take down all the information you need - measurements, job requirements, restrictions, equipment needed, products desired, and so forth - and then head back to your office to write up a professional bid package.
It is increasingly common to have to generate detailed and professional looking quotes in the field for immediate delivery. Customers are increasingly expecting everyone to be able to provide instant documents electronically. You may travel in the field with nothing more than a smart phone or tablet computer. In these cases you can generate detailed Acrobat PDF quotes from your tablet computer using pre-designed quote templates that can be instantly emailed to the client. You can also transmit the financial details of a job and basic requirements back to your office and have your office staff build and deliver a quote on-the-spot.
What should that quote or bid package contain? Start with a brief Cover Letter, reminding the potential customer who you are and summarizing the details of the project you discussed, and provide all your contact information so the customer can easily get hold of you. Then include a Quote page, an Estimate page, or a Work Order form that indicates the cost for the work and might also include a request for a deposit. If you need an additional Contract and Terms form, add that. And if you offer a Guarantee for your work, it's always nice to wrap up your bid with that page. Make sure all your pages look tidy and professional, and you're done putting together a package for a short quote or bid.
If you are writing a longer bid with more variables, you might want to include a Statement of Work (a page that describes in detail what you are promising to do and when), and pages with Price Lists and/or Labor Rates so your potential customer understands the choices to be made and the costs involved.
Here are some related samples included in every Proposal Pack:
If your job requires a lot of bid writing, your organization definitely falls into the "time-is-money" category, so consider investing in a specialized package like Proposal Kit to get a jump start on the process. Proposal Kit contains all the forms and contracts you'll need, including all those pages mentioned above, as well as estimating spreadsheets you can use to calculate your quote.
Proposal Kit also integrates with a variety of quoting software applications which can give you even more flexibility in developing your quotes.
Those are the basic steps for organizing and writing your short quote or bid. But you're not quite finished yet. After you have all the information down on the pages, focus on ensuring that your proposal is visually appealing. Incorporate your company logo, use colored page borders, and/or add interesting fonts and custom bullets to introduce color and flair. Learn how to effectively select colors for a winning business proposal.

Proposal Pack for Any Business covers this type of proposal and includes samples. There are also some commonly used specialty design themes available:
The topic pages in Proposal Kit are professionally designed and laid out for visual appeal and include suggestions and examples to guide you. You can easily add your own company logo to personalize the pages. And the product includes tons of sample proposals, too, to review whenever you need ideas. Proposal Kit is great for every sort of business writing, whether you're producing short quotes and business letters or complex reports and lengthy proposals.