This chapter template is included in every Proposal Pack along with thousands more chapter templates.
Order and download for $79.

DOWNLOADABLE, ONE-TIME COST, NO SUBSCRIPTION FEES
The Qualifications template is used to show why you are the most qualified company for the job.
I found Proposal Kit when I was looking for some pretty last minute solutions to help me prepare and organize a professional proposal (I am in the employee benefit/insurance industry). It was fast, easy and affordable. I was able to use the templates to quickly organize my proposal data and package in and attractive and professional looking format."
Holly Girgin
Produced by:
Proposal Kit
Category:
Software › Computer Software › Business & Productivity Software

4.9 stars, based on
812 reviews
Related chapters may be used in conjunction with this chapter depending on your situation. Many related chapters are intended to be used together to form a more complex and integrated proposal.

Related Chapters:
This template is illustrated in actual use in the following Sample Proposals. Samples are also included in each Proposal Pack and illustate many of the industries and situations this template can be used for: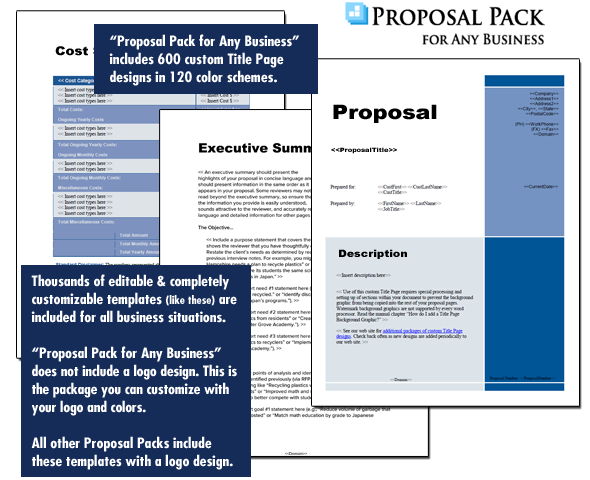 A proper business proposal will include multiple chapters. This is just one of many chapters that may be included in your proposal. The complete fill-in-the-blank template is included in our Proposal Pack template collections. A variety of sample proposals illustrating how companies in different industries both large and small have written proposals using our Proposal Packs are also included. This template will show you how to write the Qualifications.
A wide variety of chapters are included and are intended to be picked based on your needs. All proposals are different and have different needs and goals. Pick the collection of chapters from our collection and organize them as needed for your proposal. Recommendations and samples provided are only intended as general guidelines.
Using the Proposal Pack template library you can create any kind of business proposal, report, study, plan or document
such as these
.
How do you write a Qualifications document?
When searching for high quality guaranteed product service Company name has continually proven to be leader in this industry. This is demonstrated in the following ways. Insert your unique selling proposition here; what sets your company apart from your competition. List some specific points below Insert Unique Point #1 Insert Unique Point #2 Insert Unique Point #3 Specify the strengths of your company that are desired characteristics for this project Company name has specialized in Insert major related field of expertise here since Insert year We have been cited by Insert independent reference here as leader in the Insert industry name industry. Our staff is comprised of over Insert count members who specialize in Insert major related field of expertise here and devote ourselves to continual improvement to maintain our leadership. State the specific need and identify exactly how you can meet or exceed the requirements
Need #1 Insert statement about how you are qualified to meet this need Need #2 Insert statement about how you are qualified to meet this need Need #3 Insert statement about how you are qualified to meet this need Show your understanding of the benefits the client can expect. Show what might be lost if appropriate action is not taken. Identify or create areas of concern for which the client must be particularly careful. These " worry items" may be fundamental issues that other proposals may feel are too trivial to mention Show areas of specialization that are relevant to this project
Show how you can meet the required schedule. You can expand on this topic by also adding the Production Schedule template Company name maintains staff of over Insert number of employees who will be assigned to your specific project. Show your concern for doing the job properly
A Document from Proposal Pack

The editable Qualifications template - complete with the actual formatting, layout and graphics is available in the retail Proposal Packs.