This document is included in Project Management Pack which is only available as part of the Proposal Kit Professional bundle.
Order and download for $199.

DOWNLOADABLE, ONE-TIME COST, NO SUBSCRIPTION FEES

View Document Sample
Use the Formal Record Hold Investigation Form to identify records needing to be preserved as part of a litigation hold.
Document Length: 1 Page
and forms contained within the Proposal Kit helps me organize and accurately bid jobs for clients. Using the Proposal Kit is a big timesaver and it limits project creep. Necessary upfront planning is covered by the client interview questionnaire, flowcharts and design tools."
Don Kinney
Earth Solutions
The actual document is delivered in the retail products as an editable template.
Produced by:
Proposal Kit
Category:
Software › Computer Software › Business & Productivity Software

4.9 stars, based on over
700 reviews
Category: Records Management Toolkit
Use the Formal Record Hold Investigation Form to identify records needing to be preserved as part of a litigation hold.
Related documents may be used in conjunction with this document depending on your situation. Many related documents are intended for use as part of a project management system.
Related Documents: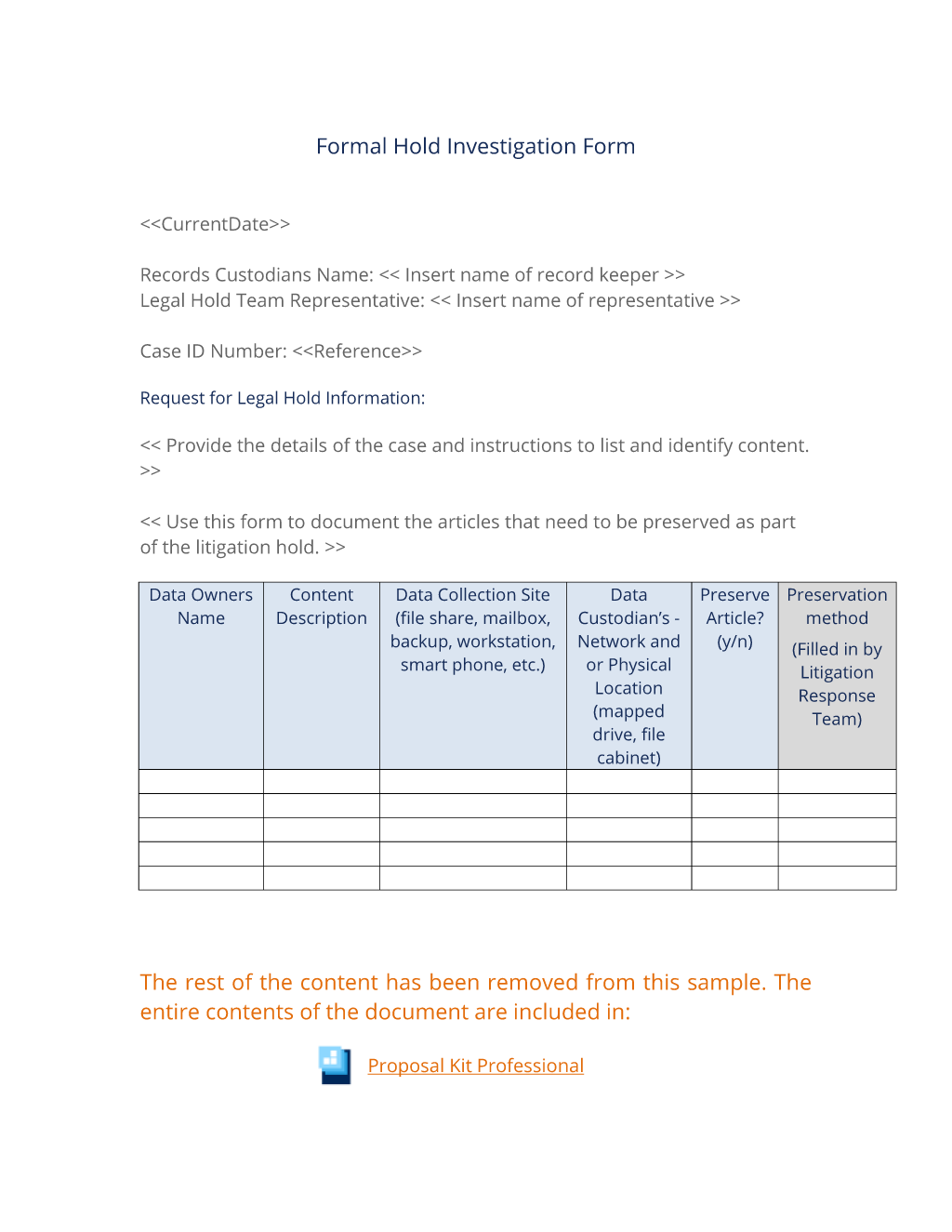 The Project Management Pack suite of templates compliments the proposal and contract documents by giving you a collection of business documents to be used once you have a project to work on.

A wide variety of documents are included and are intended to be picked based on your needs. All projects are different and have different needs and goals. Pick the collection of documents from our collection and use them as needed for your project. Recommendations and samples provided are only intended as general guidelines.
How to write my Formal Record Hold Investigation Form document
Formal Hold Investigation Form
Current Date
Records Custodians Name: Insert name of record keeper. Legal Hold Team Representative: Insert name of representative. Case ID Number: Contract Reference Number.
Request for Legal Hold Information:
Provide the details of the case and instructions to list and identify content. Use this form to document the articles that need to be preserved as part of the litigation hold. Data Owners Name Content Description Data Collection Site (file share, mailbox, backup, workstation, smart phone, etc.) Data Custodian's - Network and or Physical Location (mapped drive, file cabinet) Preserve.
(y/n) Preservation method
Filled in by Litigation Response Team.
A Document from Proposal Kit Professional

The editable Formal Record Hold Investigation Form document - complete with the actual formatting and layout is available in the retail Proposal Kit Professional.