This chapter template is included in every Proposal Pack along with thousands more chapter templates.
Order and download for $79.

DOWNLOADABLE, ONE-TIME COST, NO SUBSCRIPTION FEES
Use the Needs Assessment template to provide a summary statement of the needs that are not being met, the importance of meeting those needs, who will benefit from your proposal, and what type of solutions you have to fulfill those needs. You can then expand on this in more detail using additional needs assessment templates.
I have been using this product since 2006. I must admit I would be lost without it. In writing contracts and proposals or responding to an RFP, I would start and get stuck not knowing where to go next. Proposal Pack to the rescue. Always helps me put together a finished package neatly."
Stan Kelly
Produced by:
Proposal Kit
Category:
Software › Computer Software › Business & Productivity Software

4.9 stars, based on
837 reviews
Alternate chapters are those which may be used instead of this chapter depending on your situation. Alternate chapters may be better suited for different size projects, more specialized projects, variations on rights, etc.

Alternate Chapters:
Related chapters may be used in conjunction with this chapter depending on your situation. Many related chapters are intended to be used together to form a more complex and integrated proposal.

Related Chapters:
This template is illustrated in actual use in the following Sample Proposals. Samples are also included in each Proposal Pack and illustate many of the industries and situations this template can be used for:
Many more completed samples of this document are included in Proposal Pack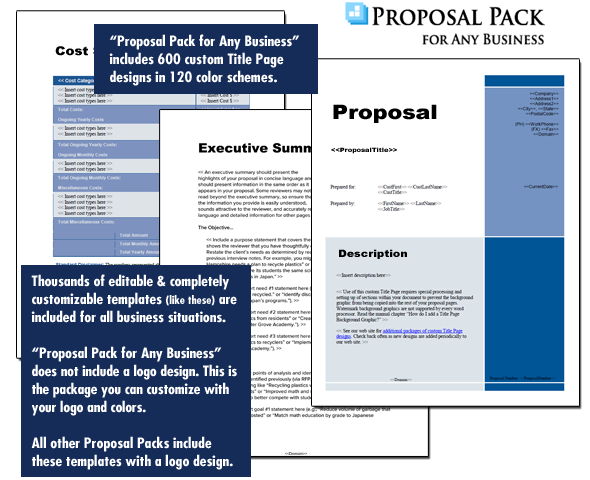 A proper business proposal will include multiple chapters. This is just one of many chapters that may be included in your proposal. The complete fill-in-the-blank template is included in our Proposal Pack template collections. A variety of sample proposals illustrating how companies in different industries both large and small have written proposals using our Proposal Packs are also included. This template will show you how to write the Needs Assessment.
A wide variety of chapters are included and are intended to be picked based on your needs. All proposals are different and have different needs and goals. Pick the collection of chapters from our collection and organize them as needed for your proposal. Recommendations and samples provided are only intended as general guidelines.
Using the Proposal Pack template library you can create any kind of business proposal, report, study, plan or document
such as these
.
Writing the Needs Assessment document
Company name has identified the following needs which are not being met. Describe the need your company is proposing to fill. This should be an external looking overview accessing the needs not being met. Describe the need from the viewpoint of who is to benefit from the project. Describe why this need is an important one. Show why it is problem. Narrow your focus of the problem down to where it is local and specific enough to match the solution you are capable of offering. For example lack of computers in schools does not describe specific need. Lack of computer skills among students in rural areas of your county relative to the rest of the state would describe more realistic and defined need. Describe how your company can fill that need by offering solution. You need to make the case that your company is the right choice to provide solution. Needs. Briefly summarize the needs. Market.
Describe the market that will benefit. If this is not commercial need you may change the title from Market to Constituency or Demographics as you see fit. Solution. Briefly summarize your solution. Sources. List additional sources of information. Additional sources of information can provide more information from independent sources to help strengthen your pitch. Studies.
Describe any studies done that back up the importance of fulfilling the needs. There is also Studies template if you need to expand on this subject.
A Document from Proposal Pack

The editable Needs Assessment template - complete with the actual formatting, layout and graphics is available in the retail Proposal Packs.