This chapter template is included in every Proposal Pack along with thousands more chapter templates.
Order and download for $79.

DOWNLOADABLE, ONE-TIME COST, NO SUBSCRIPTION FEES
The Recommendations template is used for you to provide your recommendations for the project. Normally this is what you are proposing to do for the client to solve their problem or provide for their needs.
Earlier this year I submitted my first RFP bid and was very excited to find this wonderful product. The professional quality of the Contemporary Proposal Kit along with the Wizard helped win my current contract. Both were very intuitive and made writing a snappy proposal much easier."
Anna Ricks
Workforce Development Coordinator
Columbia River Inter-Tribal Fish Commission
Produced by:
Proposal Kit
Category:
Software › Computer Software › Business & Productivity Software

4.9 stars, based on
821 reviews
Alternate chapters are those which may be used instead of this chapter depending on your situation. Alternate chapters may be better suited for different size projects, more specialized projects, variations on rights, etc.

Alternate Chapters:
Related chapters may be used in conjunction with this chapter depending on your situation. Many related chapters are intended to be used together to form a more complex and integrated proposal.

Related Chapters:
This template is illustrated in actual use in the following Sample Proposals. Samples are also included in each Proposal Pack and illustate many of the industries and situations this template can be used for: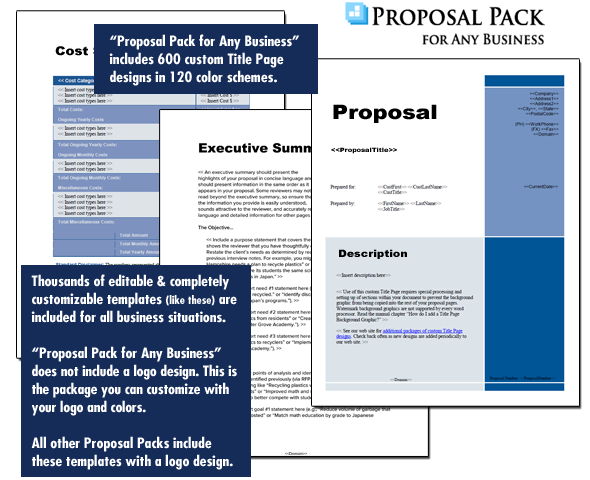 A proper business proposal will include multiple chapters. This is just one of many chapters that may be included in your proposal. The complete fill-in-the-blank template is included in our Proposal Pack template collections. A variety of sample proposals illustrating how companies in different industries both large and small have written proposals using our Proposal Packs are also included. This template will show you how to write the Recommendations.
A wide variety of chapters are included and are intended to be picked based on your needs. All proposals are different and have different needs and goals. Pick the collection of chapters from our collection and organize them as needed for your proposal. Recommendations and samples provided are only intended as general guidelines.
Using the Proposal Pack template library you can create any kind of business proposal, report, study, plan or document
such as these
.
How to write my Recommendations document
Based on our analysis of this project we recommend the following. Make firm clear recommendations accompanied by action steps. Make sure the reader can summarize the recommendations in one or two sentences. You can summarize your recommendations in the Project Summary template Recommendation #1 Insert detailed description of Required Action Step and ask client to take action Recommendation #2 Insert detailed description of Required Action Step and ask client to take action Recommendation #3 Insert detailed description of Required Action Step and ask client to take action State goals and desired outcomes of the project
Goal #1 Insert description of goal and desired outcome Goal #2 Insert description of goal and desired outcome Goal #3 Insert description of goal and desired outcome Support recommendations by giving specific details and quantifying the benefits. You can also expand on the benefits by adding the Benefits template Use strong close and close with confidence Ask for the business tell the reader exactly what you want him or her to do. Many proposals forget to ask the prospective client to take action. You should also restate your request for action in the Project Summary template
Company name looks forward to working with you on this project and we guarantee your satisfaction in all phases of this project.
A Document from Proposal Pack

The editable Recommendations template - complete with the actual formatting, layout and graphics is available in the retail Proposal Packs.